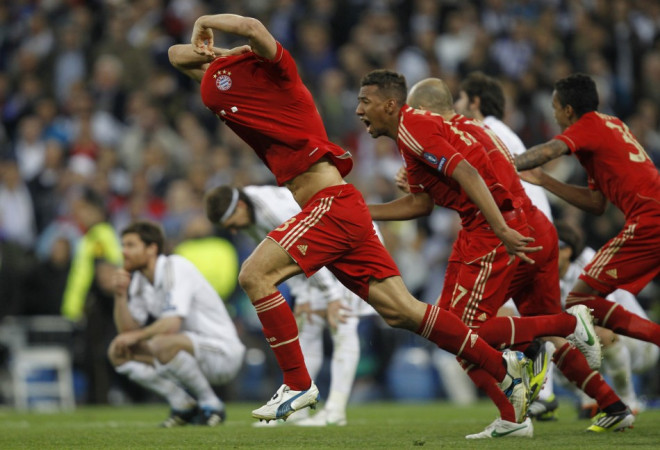 The current edition of the Champions League has a quintet of world-class teams vying for the crown: Real Madrid, Bayern Munich, Barcelona, Paris Saint-Germain and Manchester City. The competition has not been strong in years - in fact, it's arguable that there has never been a stronger Champions League competition than this year's installment.
But who is the best? Which of the four challengers can definitively claim to be the world's premier club side?
By continuity of time it seems that Bayern Munich are one step ahead of the pack But many people think Real Madrid are the favourites to win the current Champions League. Carlo Ancelotti's squad is in top form; they are out in front in La Liga, have qualified for the Spanish Cup final against Barcelona and the crushing victory against Schalke 04 in the Champions League last 16 first leg tie booked their passage into the quarter-finals of Europe's elite club tournament.
The team work perfectly well in both attack and defense. In attack, Jese has given the team extra scoring options alongside the triumvirate now revered in Spain as the 'BBC': Cristiano Ronaldo, Karim Benzema and Gareth Bale. In eight league games, Madrid have scored 22 goals and conceded just three. The rigorous training regime imposed by Ancelotti has made Real Madrid fitter than ever.
Cristiano Ronaldo is the top scorer in La Liga with 22 goals and third top scorer in Champions League's history, having netted 11 goals this year. His potency gives Real a genuine trump card - if Ronaldo catches fire, no team in the world can contain him.
But if Real Madrid are enjoying a thus-far perfect season, the German giants Bayern Munich are doing likewise. In fact they are well on their way to repeating the treble they achieved last year, comprising Bundesliga, Champions League and German Cup.
Just like Real, Pep Guardiola's squad has put one foot in the quarter-finals of the Champions League after beating Arsenal in London. Their domestic lead dwarfs Real's (second-placed Bayer Leverkusen are 19 points adrift). In fact, if they win their next six games, they can set a new domestic record by winning the Bundesliga in March.And they have qualified for the semi-final of the German Cup, where they will face second-division Kaiserslautern.
Stars such as Arjen Robben and Franck Ribery provide a fluid, dynamic spearhead along with Thomas Müller and Mario Mandzukic (third top scorer in the Bundesliga with 13 goals), who play well in every game. Yet it's the midfield, where a player as feted as Toni Kroos struggles to hold down a regular place, which is the real trump card: few teams in history have boasted the variety of options Bayern currently possess at the core of their team.
Barcelona, like Real, have a global superstar in Lionel Messi, and his game-changing genius has been augmented by the arrival of Neymar. And though that wonderful era of dominance, built on the axis of Xavi and Iniesta and their fabloured carousel, may finally be fading, the team is still in a good position to win all the titles on offer.
Barca's claim to be the world's best is undermined by the age of many of their key players: Xavi, Puyol and Dani Alves have all past their peak. And their patchy league form (two defeats and two draws in seven matches) suggests they are more fallible than Real or Bayern at present. Yet the Catalans are one step away of qualifying for the quarter-finals after beating Manchester City. And of course they will contest the final Spanish Cup against Real Madrid.
Some steps down are Paris Saint-Germain, who have tremendous economic power but have yet to reach their full potential on the field. The injection of €200m propelled them to the French championship last season and with stars such as Zlatan Ibrahimovic, Edison Cavani, Thiago Silva and Ezequiel Lavezzi on board, PSG boss Laurent Blanc is trying to build a team that can challenge for the Champions League.
The French team beat Bayer Leverkusen in the last 16 first leg tie in Germany, 4-0 - like Real Madrid, their second leg is academic. They are also leading the French league with 61 points, 5 points clear of Monaco, and Ibrahimovic is rampant, notching 22 league goals already this year. Perhaps they aren't quite ready to crack the Champions League, but few teams will fancy a trip to Paris in the spring time this year.
Manchester City have also aspirations in Europe. The Blues, like PSG bankrolled by Middle East petro-dollars, are on track to break all manner of records with their goalscoring potency. They have scored 99 goals in 33 official matches this year, which means they have already exceeded the 93 scored last year with Roberto Mancini in the dug-out.
Pellegrini's style, combined with the signings of Negredo and Navas have made the club stronger this season , building on the perennial class of Yaya Touré and Sergio Agüero (third top scorer in the Premier League with 15 goals). Despite losing the first leg last 16 tie against Barcelona, ​​City at least have some hope in their return trip to the Camp Nou - having already won in Munich this year, they will believe anything is possible.
Overall, IBTimes believe Real Madrid are currently the world's best. Bayern may be stronger collective, but Real can call on Ronaldo, backed up by Ancelotti's tactical nous. But it's a close run thing - any of these five elite clubs would make worthy Champions League winners.