Real Madrid boss Carlo Ancelotti has been advised to bench Gareth Bale after a recent poll made by Spanish newspaper Marca revealed its readers don't want the former Tottenham star in Los Blancos' line-up.
The results are especially surprising taking into account the fact that most of Marca's readers support the current Champions League winners.
But despite an impressive goal tally, Bale has struggled to conquer the hearts of Real Madrid fans since his reported £89m move from White Hart Lane in summer 2013.
Questioned on whether Ancelotti should bench Bale, 63% of the Marca readers voted yes while just 36% were against.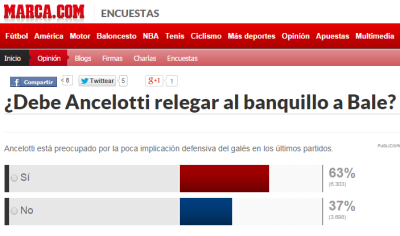 After being heavily criticised during the first part of the last campaign, the Wales international finished the season scoring 22 goals, netting in both the Champions League and Copa del Rey finals.
Bale justified his struggling adaptation last season due to a lack of pre-season training but now Spanish pundits believe he has not got an excuse for recent poor performances.
Having already scored five La Liga goals this season, nobody could doubt about his talent and clinical skills up-front, but many are questioning his defensive commitment.
Real Madrid have struggled in their start to the campaign, losing two La Liga games, and Spanish pundits eventually blamed Bale for the lack of balance showed by Ancelotti's side following the departures of both Angel di Maria and Xabi Alonso.
Marca revealed Ancelotti himself is worried about Bale's performance although he isn't considering benching him yet.
"Carlo Ancelotti grimaces whenever he is asked about his team's current form, and he does so because there is one player who has not yet fully settled into the team: Gareth Bale," Marca reported.
"Certain behaviour and attitudes have been worrying the Italian more than they did at the beginning of the new season. His main concern is Bale, that same player who kicked off pre-season in great attacking form, but was falling short with his defensive responsibilities."
And Marca even quoted a private conversation between Ancelotti and his coaching staff saying: "I only have one piece left to the puzzle and that is Bale."
Meanwhile, Spanish newspaper AS also made a similar report on Friday about Bale's recent poor performances, saying: "Gareth Bale disappears after a good start to the season."