Real Madrid legend Carlos Santillana slams Cristiano Ronaldo for his cocky attitude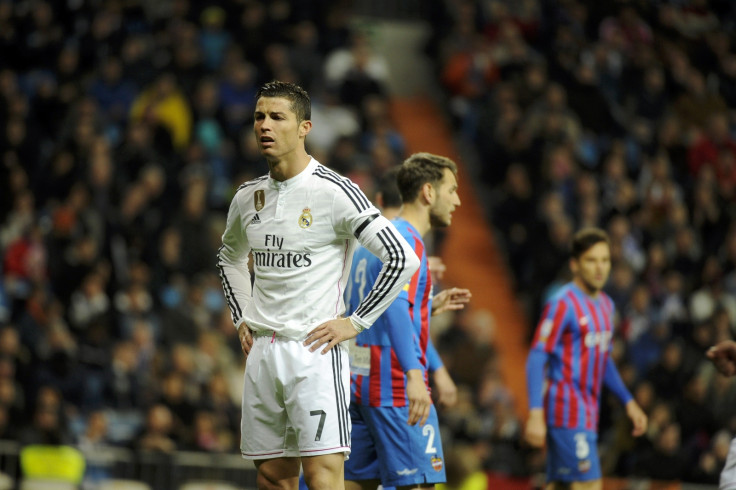 Real Madrid legend Carlos Santillana has claimed former Manchester United hero Cristiano Ronaldo should be less cocky and more respectful with his teammates ahead of El Clasico against Barcelona on Sunday 22 March.
The Portugal international is currently enduring one of his worst moments at the Santiago Bernabeu after a surprising a drop in form since receiving the Ballon D'or award earlier in the year.
But Ronaldo has not only been under scrutiny for his performances but specifically for making public rebukes during games to some Real Madrid players, including Gareth Bale.
Some Real Madrid fans even provoked his anger by whistling at him during the last La Liga game against Levante, prompting a furious reaction from Ronaldo who was caught by Spanish TV responding to the crowd, telling them to "f**k off" in Portuguese.
And Santillana, one of Real Madrid's most important players of all time, has now also hit back at Ronaldo for his attitude.
"Cristiano Ronaldo should temper his cocky attitude. As a supporter, I do not like Ronaldo's attitude. Sometimes it seems that he blames his teammates or that he is not satisfied when the rest play well. From outside I have that feeling," Santillana said, according to AS.
"It is his character but when he does that kind of thing, he should think more about it because Real Madrid fans don't like it."
Nevertheless, Santillana, who scored 290 goals for Los Blancos, has claimed that Real Madrid fans should back him rather than whistle.
"They shouldn't whistle at him because he has done amazing things for Real Madrid but he should moderate his cocky attitude because it's not good either for himself or the club."
Meanwhile the former Real Madrid striker admits that Barcelona are the favourites to get the three points on Sunday because they arrive to el Clasico as leaders – one point ahead and in better form – following their 1-0 victory over Manchester City on Wednesday night.
"Barcelona are playing better and they play at home, so it looks like they are a little bit more favourites. But anything can happen and maybe the game is not definitive for La Liga title."
© Copyright IBTimes 2023. All rights reserved.