Real Madrid president Florentino Perez defends Gareth Bale and Carlo Ancelotti after criticism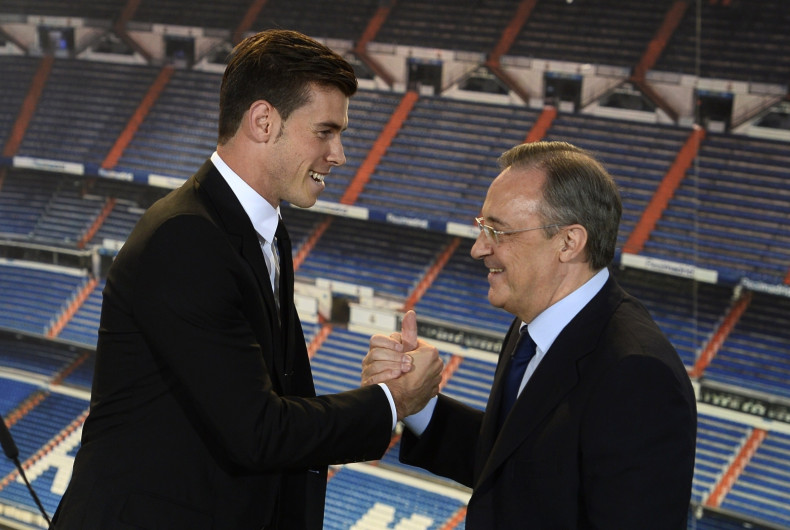 Real Madrid president Florentino Perez has defended Gareth Bale after pundits and supporters suggested the former Tottenham hero should be dropped from manager Carlo Ancelotti's line-up in order to address the club's current crisis.
Bale has failed to score a goal in his last nine appearances for Los Blancos, while his last one came from the penalty spot in the victory over Cordoba on 24 January.
And after Real Madrid suffered consecutive defeats against Athletic Bilbao and Schalke, following a draw against Villarreal, the former Spurs star has been made the scapegoat, while many have booed him since the start of the season and accused of him of being a "ball-hog".
Florentino says the press is to blame for the situation. He highlighted the crucial goals Bale scored last season both in the Champions League and the Copa del Rey finals, before pointing out some reports, during the Wales international's first campaign at the Santiago Bernabeu, said the midfielder had a long-term hernia injury - claims that were said to be completely false.
"Gareth Bale is one of best players in the world and the most important team in the world fought for his services. His problem comes from press always being against him," Perez said at a press conference. "The only thing I can say is that we shouldn't forget what he was able to achieve in his first year at Real Madrid."
"He's not a problem. I signed him a couple of summers ago and there was a huge fuss made about it. He was presented even though he was suffering a hernia – I knew that but we presented him anyway. When he was over his hernia injury, we had to change the system and that took time. Questioning the coach's good intentions is unacceptable. We should remember what Bale did in his first season in the Champions League and Copa del Rey finals".
Spanish press has encouraged Ancelotti to switch the current 4-3-3 formation with Bale, Cristiano Ronaldo and Karim Benzema up front for a more balanced 4-4-2 without the Welsh star.
However, they suggest Ancelotti is too lenient and does not have what it takes to drop one of his stars, prompting an unbalanced team that is failing to live up to expectations.
Carlo Ancelotti is battling the critics
Florentino has also defended his manager, claiming he is not going to be sacked - some reports said the Real Madrid president handed the ex-AC Milan manager an ultimatum - at any point but refusing to rule out whether the Italian boss will remain at the club next season.
"Whatever happens in the coming weeks, Carlo Ancelotti will remain Madrid coach. We have the best coach and players for Madrid. The club has full confidence in our coach and our players," he said. "Ancelotti is a bit surprised, but has a wealth of experience and trusts his players. Aside from the unexpected nature of this self-destructive atmosphere, he's fully focused on his job.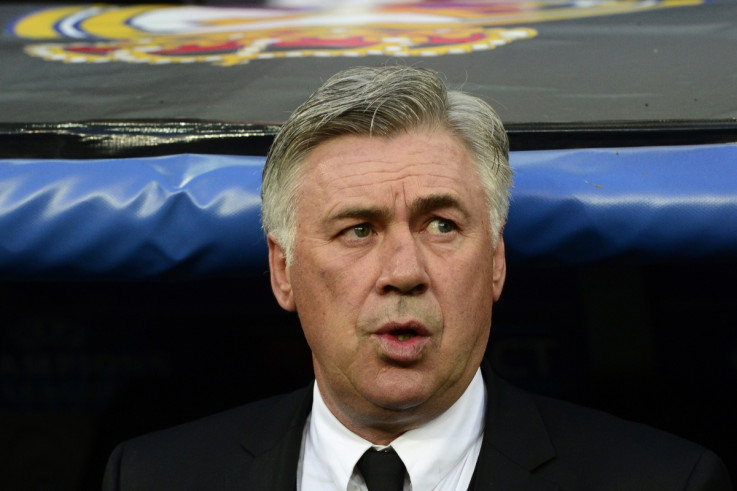 Carlo Ancelotti has been under fire as Real Madrid struggle
Reuters
"We had never won four trophies in one calendar year, as in 2014, so this coach and players form part of the history of this club. We ask all our socios and fans to support our coach and fans and be proud of them, for all they have done, all they will do."
But asked if he can confirm the former Chelsea manager will still be in charge next term, he responded: "I have said what I said."
Meanwhile, the president has backed Ronaldo who was whistled by some fans during the Schalke defeat for his recent poor form, despite the brace he scored in the game. He said: "I will not question Ronaldo. Everyone has had a drop, due to circumstances. He is working to recover, as always does."
Perez believes the ex-Manchester United star will regain his best form in the coming games and eventually lead his side to the Champions League title again.
At the same time, the president urged supporters to back under-fire goalkeeper Iker Casillas. He said: "I want the club members and fans to get behind their players. There are already enough people hoping things go badly for Real Madrid. Our goalkeeper is a symbol of this club. He needs affection and support when he makes a mistake".