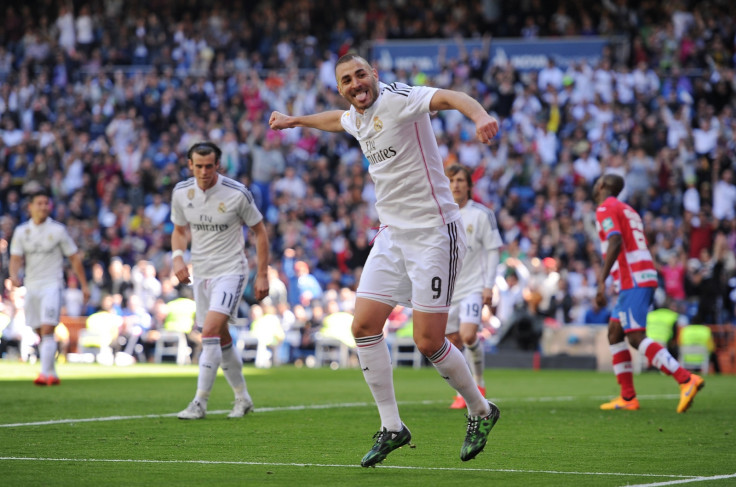 Real Madrid will do everything in their power to stop Karim Benzema from joining Arsenal, according to their former midfielder Kaka.
After weeks of speculation linking Benzema with a £45m ($70.3m) move to North London, reports have emerged suggesting that the Gunners have agreed terms with Real to sign him.
But Kaka, a former world record signing for Real Madrid in 2009, expects the Bernabeu club to put up a fight to keep the France international away from Arsenal's clutches.
"I think Benzema is one of the best forwards at this moment so I don't think Real Madrid will give him away so easily," he told Talksport.
"Karim Benzema is a very good player and if he can have the opportunity to go to Arsenal then they will take a very, very good player."
Alongside Cristiano Ronaldo, Gareth Bale and James Rodriguez, Benzema is a key component of the Real attack, netting 21 goals in all club competitions last term as Carlo Ancelotti's side were outshone by treble-winners Barcelona.
New manager Rafael Benitez has denied Benzema will be leaving the club this transfer window, while Arsenal boss Arsene Wenger has been typically reserved in relation to rumours linking his fellow countryman with a move to the Premier League.
Olivier Giroud and Theo Walcott's performance in the opening day defeat to West Ham United worked to highlight Arsenal's problems in front of goal and former midfielder Ray Parlour believes Benzema would solve these issues.
"That is a position they've got to look at," he told Sky Sports. "Everyone is going to jump on the bandwagon now but it's a long, hard season and there's a way to go.
"If you look at Man City, you know Sergio Aguero is their main man, for Manchester United it's Wayne Rooney and at Chelsea, it's Diego Costa. Who is it at Arsenal?
"Benzema has been linked and if they could get a proven goalscorer like that then it would be fantastic. They can afford to get him and start competing in the transfer market whereas before they couldn't because of the stadium.
"[Arsene Wenger] has proved in the past few years he will go and get those big players and Benzema would undoubtedly strengthen their side."