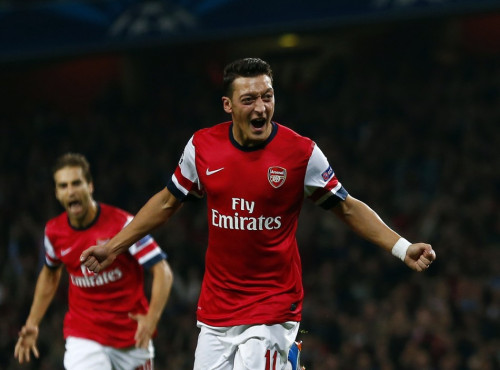 Real Madrid manager Carlo Ancelotti has revealed that Mesut Ozil shouldn't have been sold to Arsenal as the Italian finally recognises the impact of the playmaker's sale.
Many comments have been made from Ancelotti about Ozil after the Germany international left the Spanish giants for north London on deadline day in the summer with the Italian claiming that he wasn't committed enough to stay with his former club.
Ancelotti also insisted that Angel Di Maria was a preferred option in the midfield anyway while Ozil goes from strength to strength with a reinvigorated Arsenal side.
Ozil equally claimed that the manager didn't have enough faith in his abilities and that he felt that after just one phone call with Arsene Wenger he was wanted more by the Gunners.
But as Madrid sit at third in the La Liga table, having made ground on Barcelona and Atletico Madrid who both drew while they won, Ancelotti has admitted that he made a mistake in letting Ozil go.
"I think we made a mistake when we gave him the possibility to leave the club," he told Gulf News.
Ozil has so far been a god-send for Arsenal whose fans were starting to turn on Wenger towards the end of the most recent summer transfer window.
The purchase added a much needed spark to a side who struggled to finish in fourth place last season and with the Gunners currently in the mix for the title.
Ozil's contributions were particularly important as Wenger navigated Arsenal through a group of death in the Champions League and now the side face a rampant Bayern Munich in the round of 16 which will reunite the German with many of his international teammates.