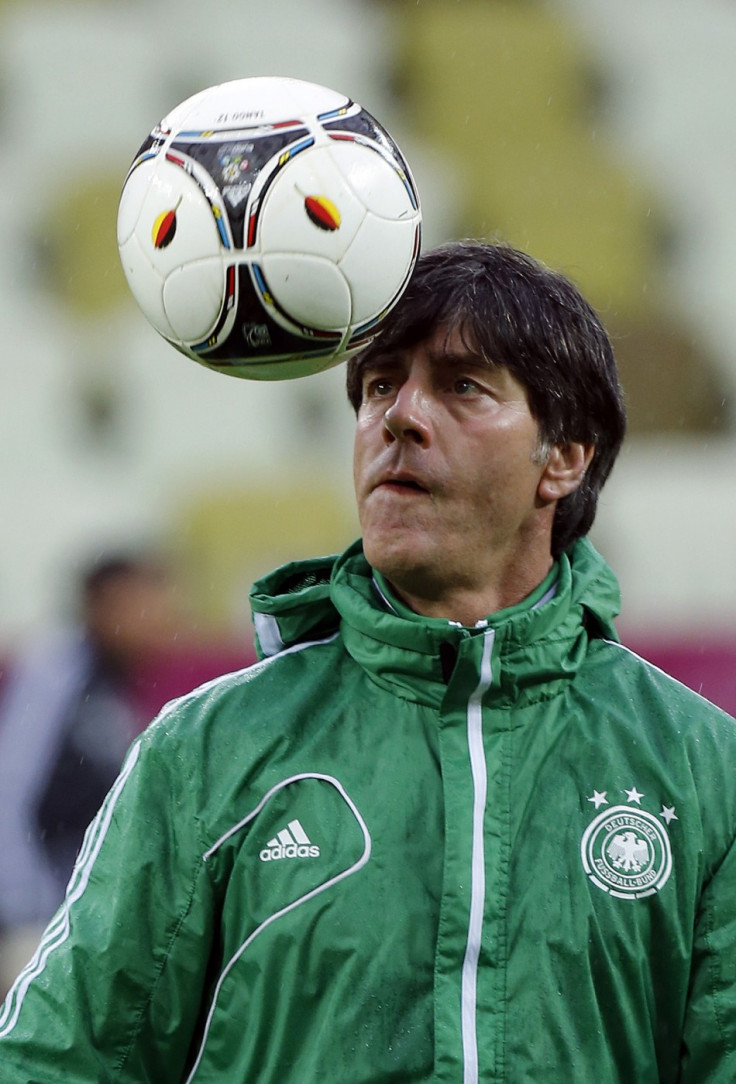 A Goal.com report quotes Real Madrid and Germany forward Mesut Ozil as stating he would be delighted if his national team boss, Joachim Löw, took over at the Santiago Bernabeu sometime in the future.
"He is a very good coach, one of the best in the world. If he could coach Real Madrid? Of course, why not? He has the quality to do it," Ozil was quoted as saying.
Löw's managerial career before his present position with the German national team has been nondescript, to say the least. The 52 year old former attacking midfielder spent most of his playing career with SC Freiburg. The Schönau-born Löw made a total of 252 appearances - in three spells (1978-80, 1982-84 and 1985-89) - for Bundesliga outfit and is still the club's all-time leading goal scorer with 81 strikes.
His most high-profile coaching job before former German international Jürgen Klinsmann called on him to be his assistant was a two season spell in charge of Stuttgart, between 1996 and 1998. Aside from that Löw spent three years in Austria, coaching first FC Tirol Innsbruck then FK Austria Wien. It wasn't until he teamed with Klinsmann that Löw really began to be recognised; even then, though, it was Klinsmann who was in the spotlight. Nevertheless, it was the work of the two that revolutionised German football after the disastrous Euro 2004 campaign and once Klinsmann left, after a 2006 World Cup campaign that saw the hosts finish an almost improbable third, Löw was the natural successor.
Löw's record with the German team and Die Mannschaft's evolution into one of the most feared national sides in the world with a fast, confident and aggressive attacking philosophy has cemented his position as one of the finest tacticians in the game and his rising status has lead to links with some of the most high-profile clubs in the world.
Another report on Goal.com quoted Spain and former Real Madrid manager Vicente del Bosque as suggesting Löw could be ready even to handle the pressure of coaching a side like Madrid or Barcelona.
"He is an elegant man who represents his country very well. He has done a job at club and international level. Real Madrid and Barcelona would certainly not be too big for him," the Champions League and World Cup-winning tactician admitted. Meanwhile, del Bosque also praised the German side Löw had put together over the years, confessing he was hard pressed to find a weakness anywhere.
"Germany have been playing football at a very high level," Del Bosque explained, "Their fighting spirit is unique. They are a fantastic team. I cannot think of any weaknesses. They are very good defensively, while Mario Gomez is a giant in attack. He has sent the eternal Miroslav Klose to the bench, and that certainly means something."
Talk of Löw moving to the Spanish capital is not new. Towards the end of 2011 and even as recently as January, there were reports suggesting Jose Mourinho had grown tired of life in the Spanish capital and was looking to return to the Premier League. At that time, a Goal.com report said club officials had drawn up a shortlist of potential replacements and Löw was in pole position. The German coach even drew attention from Roman Abramovich and Chelsea before they appointed Roberto Di Matteo on a permanent basis.
Löw himself has dismissed all speculation earlier and since, stating he wanted only to focus on his job with the German team. An earlier report by ESPN quoted the manager as denying rumours he had met Abramovich in secret.
"I have a contract as national team coach until 2014. The European Championships start in three months and everyone knows my goal. I see no reason for me to comment on media speculation," he said back in March.