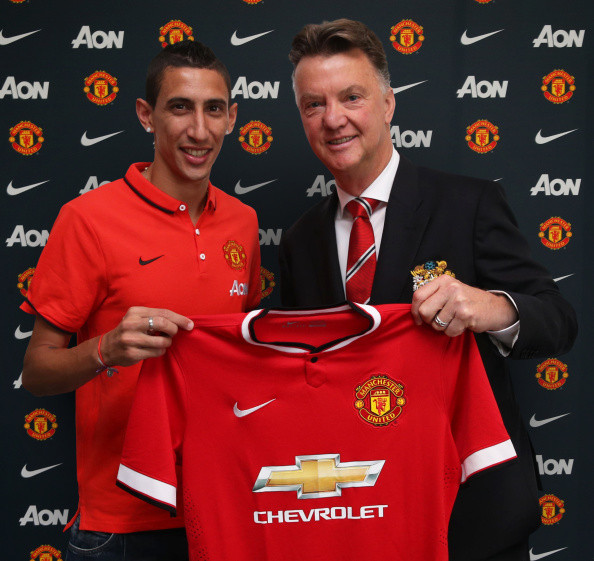 Real Madrid president Florentino Perez has claimed they sold Angel di Maria to Manchester United due to the player's high salary demands - while the club refused to sign Radamel Falcao as manager Carlo Ancelotti didn't want the Colombian international in his squad.
Manchester United completed the signings of both players this summer, after agreeing to pay a British record £60m to Real Madrid for di Maria and securing a loan deal with Monaco for Falcao.
Some pundits, and even Cristiano Ronaldo, have questioned Perez's decisions in recent days as di Maria was a crucial player in their success last season – which culminated in the Spanish giants winning both the Champions League and the Copa del Rey.
The Argentinian blamed Perez for his exit in a recent farewell letter to Real Madrid, hinting at a poor relationship with the president.
But Perez has now responded to the critics. When asked why Real Madrid decided to sell di Maria, Perez explained: "If a player with a contract leaves the team it is because he wants to leave.
"He had legitimate financial demands that Real Madrid did not satisfy. We did the best offer we could and he did not accept it. None except Cristiano Ronaldo would have earned more than him.
"If we had accepted his conditions we would have jeopardised the financial stability of the club. So we incorporate James Rodriguez. It is a satisfaction that Di Maria has found his place in another club, which has also given us an amount that we believe is fair.
"I arrived at the club in 2000 and since then players have arrived and left. When someone leaves, people always say he was the best. And when someone comes, is questioned."
The President also explained his decision not to sign Falcao, even though the Colombian star wanted to play for the Spanish giants ahead of United.
"He [Falcao] is a great player and we have considered his arrival, not now but other times. However we decided against signing him. We also valued the boss's opinion about not signing him"