Real Madrid quintet miss training before Alaves as Zidane explains Gareth Bale's lack of minutes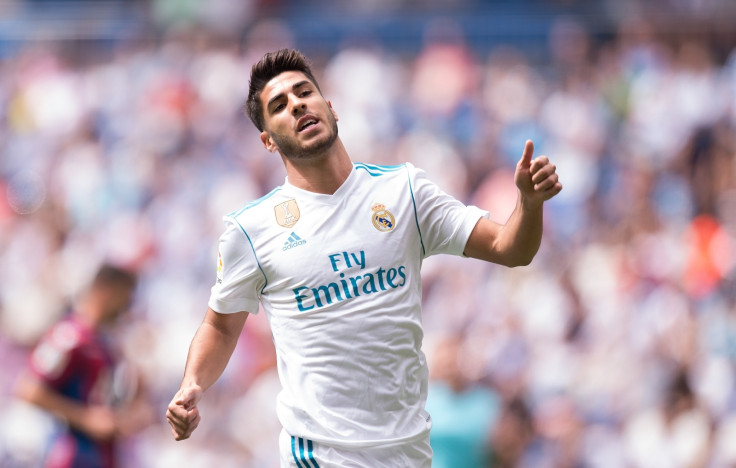 KEY POINTS
Marco Asensio missed the final session on Friday after having a wisdom tooth removed.
Luka Modric, Marcelo, Toni Kroos and Jesus Vallejo remain on the sidelines.
Real Madrid could be without up to five first-team players for the visit of Alaves on Saturday (24 February) after Marco Asensio, Luka Modric, Marcelo, Toni Kroos and Jesus Vallejo missed training ahead of the game due to varying fitness problems.
Asensio had a slow start to 2018 but the promising forward has been arguably one of Los Blancos' best player in the consecutive victories over Paris Saint-Germain, Real Betis and Leganes.
The former Mallorca starlet played a crucial role in the 3-1 win over the Parisians after coming on in the 78<sup>th minute to provide two assists before days later he scored a brace in the 5-3 win over Betis.
Asensio also started ahead of Gareth Bale in the win over Leganes on Wednesday [21 February] but his availability to face Alaves could be on doubt after Real revealed that he was unable to train on Friday [23 February] having a wisdom tooth removed.
Meanwhile, the visit of the Basque side comes to come too soon for Modric, Marcelo, Kroos and Vallejo with the quartet yet to recover from their respective muscle injuries.
"Ball work took centre stage in a session that saw Vallejo, Kroos, Modric and Marcelo all continue their recovery programs. The centre-back went back to work out on the pitch, both with and without the ball," Real informed in the club website. "Asensio missed the session after having a wisdom tooth removed."
The potential absence of Asensio against Alaves could give Bale a chance to regain a place in Zidane's line-up with the Welshman having started on the bench in three of the last four games.
Bale has not completed a single game since returning from a long-term muscle injury late in November and Marca and AS have reported that Los Blancos are ready to put him up for sale in the summer.
But Zidane says that he is trying to be cautious with the former Tottenham star having already lost four players due to muscle injuries in recent weeks.
"He [Bale] is s a key player in this squad and he always will be. You ask me about a different player every day but all I'm interested in, is the team and how we're working day in day out. There are players who don't get much game time but they train every day and those players are vital because I believe in the group, not individuals. They're all fantastic players but I focus only on the team," Zidane said in the press conference ahead of the clash with Leganes.
"The important thing is for him to feel fit and train well. He's focused and I want to see him back at 100%. I don't want to lose him to injury again. There are many things behind it but I'm sure he's going to play a key role. I've not had him available due to all the injuries. We play every three days and we have to monitor every player. We've had injuries to three or four guys recently and we have to be careful. That's how I see it, and I'll be calling on all 25 of my players from here to the end of the season. Football has changed and I need them fit and healthy, at 100%."