Real Madrid have been encouraged to part ways with Gareth Bale after a poll by Spanish daily AS revealed that more than 73% of the voters would put the former Tottenham Hotspur star up for sale in the upcoming summer transfer window.
Bale moved to the Santiago Bernabeu from White Hart Lane in the summer of 2013 in a £85.3m club record deal which eclipsed the £80m Los Blancos paid Manchester United to sign Cristiano Ronaldo four years before [BBC Sport].
The Wales international enjoyed an impressive debut campaign in La Liga, winning both Champions League and Copa del Rey and scoring in both finals.
However, his future at Real has come under question in successive transfer windows having failed to replicate that form due to a number of fitness problems.
The situation has become especially critical this season with the 28-year-old having also fallen out of favour with manager Zinedine Zidane.
The ex-Tottenham star has eventually not completed a single game since returning from a long-term muscle injury during the Copa del Rey clash with Fuenlabrada on 28 November.
The Welshman only made a late cameo appearance in the 3-0 defeat to Barcelona on 23 December and has started on the bench in three of the last four games, including the 3-1 victory over Paris Saint-Germain in the first leg of the Champions League last 16.
On Wednesday, [21 February] Lucas Vazquez and Marco Asensio played ahead of him in the 3-1 win over Leganes even though Cristiano Ronaldo was rested and the former had been struggling with injuries ahead of the game.
"I'm pleased with him [Bale], he needs to take it slow to get back to his best. We are in a good dynamic and I'm happy. I rely on all these players," Zidane said in the press conference following the win over Leganes.
"Lucas and Asensio have always been important and I'm over the moon for Lucas because he deserves it. He scored and fought hard despite the injuries he had beforehand. Asensio did well too and Kovacic was phenomenal. We have had tough times and we have to enjoy this moment.
"What matters is they do well and show their flair when they take to the pitch. I have to come up with a starting eleven and that can be tough at times. It is great for me to see those players who have played less, coming on and playing well."
Last week, AS reported that president Florentino Perez is considering sacrificing the former Tottenham hero in order to make space for new players ahead of next season.
On Thursday, Marca went further and said that Real will put him up for sale in the upcoming summer transfer window.
And the fans have now backed those plans in a poll launched by AS with nearly three quarters of the 57,000 voters saying that "Real should sell Bale in the summer".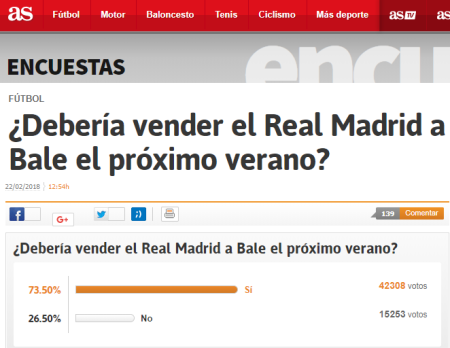 Only 26.5% of the voters replied no to the question from AS, which primarily covers teams hailing from in and around the Spanish capital including Atletico Madrid and Rayo Vallecano.