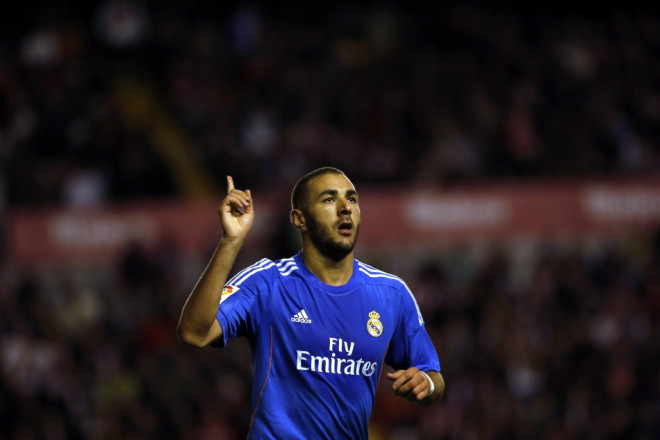 Real Madrid have started talks with Karim Benzema about a contract extension, with Arsenal reportedly monitoring the situation as the French striker's current deal ends in 2015.
Arsenal boss Arsene Wenger is understood to be a big fan of his compatriot and last summer the Gunners were heavily linked with a move for him after failing to secure main target Luis Suarez.
However, the Spanish giants refused to part with the striker and Arsenal decided instead to sign his then team-mate Mesut Ozil on deadline day after paying £45m.
According to Spanish newspaper Marca, Wenger is keen to renew his attempts for the French international next summer, especially considering that if Benzema does not sign a new contract at Santiago Bernabeu, his club will be force to sell him at the end of the season or let him go for free in summer 2015.
Madrid are desperately trying to avoid that situation and Marca reveals that they are already talking about a contract extension with the player's agent.
According to the report, the negotiations have been ongoing since last September and a basic understanding is said to exist, as the player is likely to commit his long-term future to the club.
After some inconsistent performances last season, Benzema has established himself under Carlo Ancelotti this year, scoring 14 goals in 23 La Liga games. Following Gonzalo Higuaín's departure, the Frenchman has proven to be a consistent scorer and reports in Spain claims that he is finally enyoying his time in Madrid.
Arsenal are tring to sign a striker but last November Wenger revealed that he was not interesting in signing Benzema, as it wouldn't be good to have him and Olivier Giroud competing for a place both in France and at Arsenal.
"I don't think that's a good idea. In France we have a competition for the striker position, between Giroud and Benzema. You cannot fault Giroud's mentality of commitment. He has been mentally tested."