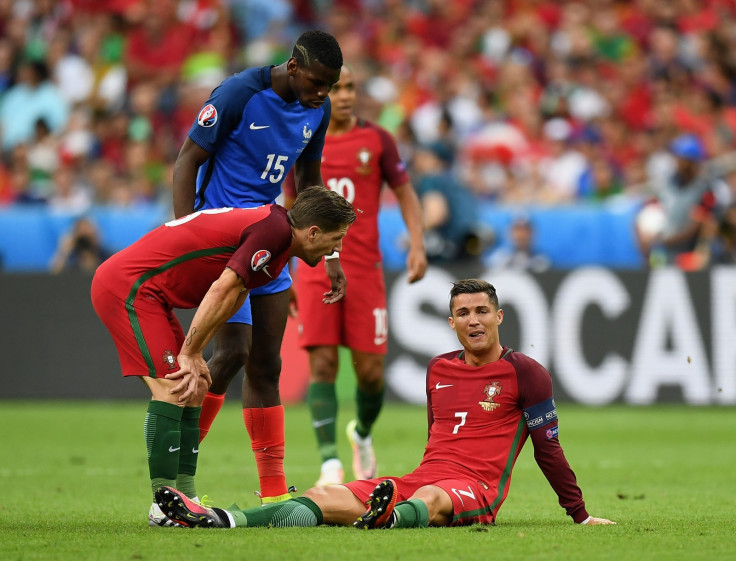 Cristiano Ronaldo's return to action will take place in Real Madrid's third game of the La Liga season, against Osasuna on 10 September, according to AS. The Portugal international will remain sidelined for Saturday's game against Celta Vigo, but will take advantage of the forthcoming international break to complete his recovery.
The 31-year-old is yet to play a game for Real Madrid this season, having suffered a knee strain during Portugal's victory over France in the Euro 2016 final on 10 July.
The former Manchester United ace has subsequently missed the European Super Cup victory over Sevilla as well the La Liga opener win over Real Sociedad. However, he has recently returned to training sessions and according to AS his comeback is imminent.
The Spanish publication claims the Real Madrid star doesn't want to rush his return for the weekend game against Celta and has targeted the match against Osauna on 10 September instead, which takes place exactly two months after he suffered the injury.
AS claims Real Madrid are hoping Portugal will not call the player up for the games against Gibraltar and Switzerland on 1 and 6 September to let him complete his recovery ahead of the third La Liga game of the campaign.
Meanwhile, Ronaldo has admitted in an interview with the Uefa official website that last season was the best of his career, as he won the Champions League crown with Real Madrid before helping his national team conquer Euro 2016.
"In terms of trophies it was possibly the best of my career," Ronaldo said. "After winning the Champions League, winning the European Championship with my country capped an extraordinary year. The same goes both collectively and individually, because I was top scorer in the Champions League and had a good European Championship. It really was a top-drawer, excellent season for me.
"[Winning the Champions League again] was an amazing experience. Once again [as in 2014] against Atlético Madrid, who are an excellent side and also deserved to win the Champions League ... but Real Madrid were better. We had a bit of luck in the shoot-out because penalties are always a lottery. It was the pinnacle of a difficult season for Real Madrid in which we were ultimately able to win the biggest trophy in club football."
Ronaldo was also full of praise for manager Zinedine Zidane, after the French legend took over from Rafa Benitez mid-season to lead his side to their 11th Champions League crown.
"Zidane was key," Ronaldo stated. "He's a great professional, a great person and, in my opinion, his biggest quality is his ability to give his players a sense of calm. That's what we needed and after he arrived the team we went from 0 to 100. We were 12 points behind Barcelona and we ended up just one point adrift. In the Champions League we did what we had to do – and went on to win it. What more could you ask? Zidane deserves a lot of credit."