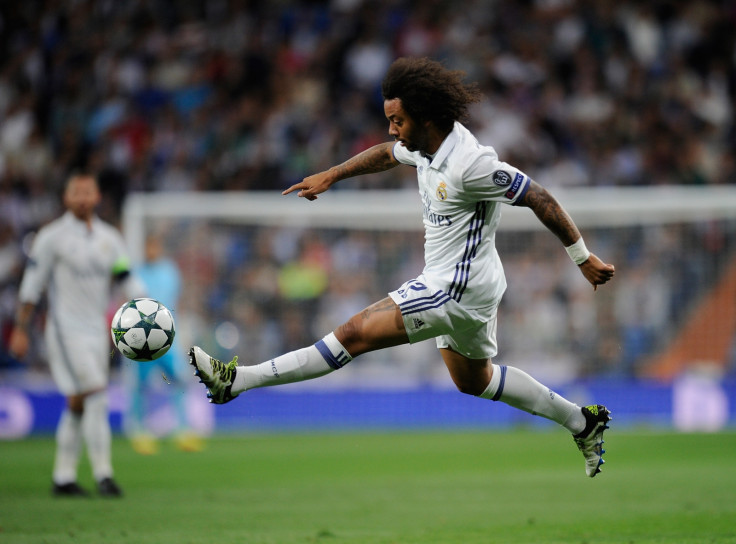 Real Madrid star Marcelo is set to be out of action for around two weeks after he was forced off during the 1-1 draw against Villarreal on Wednesday night, according to Marca. The Brazilian left-back will thus miss the three next games against Las Palmas, Borussia Dortmund and Eibar.
Meanwhile, other two key players like Pepe and Casemiro remain doubtful for the La Liga trip to Las Palmas on Saturday (24 September) after the club confirmed that the injured duo couldn't train with the rest of their teammates on Thursday. Marcelo was replaced by Dani Carvajal in the 42-minutes of the game against Villarreal after he suffered a muscle strain.
Marca claims that the left-back will undergo medical test on Friday to address the problem but will be out of action for around two weeks. The news is a big blow to Real Madrid as – only three days after the trip to Las Palmas – Los Blancos will have a crucial Champions League game at Borussia Dortmund. Furthermore, he would also miss the home game against Eibar on 2 September, which will come just before the international break.
Yet, his absence may give Fabio Coentrao an opportunity to play after the Portuguese international recently recovered from a long-term injury.
Meanwhile, the availability of Pepe and Casemiro for the trip to Las Palmas is still uncertain, after the duo missed the midweek draw with Villarreal due to injury. Real Madrid have now eventually confirmed that both failed to complete the Thursday workout with the rest of the squad after they already missed the draw with Villarreal.
"Pepe undertook an individual programme out on the pitch and Casemiro trained using the indoor facilities," the club confirmed in its official website. Meanwhile, the players who started against Villarreal only undertook a light training session.
"Following the game against Villarreal, the La Liga leaders returned to training to prepare for the upcoming game against Las Palmas on Saturday (8:45pm CEST). The players who started the game against the Castellon outfit carried out a recovery session using the indoor facilities, however some of them also took to the pitch to carry out running exercises," the club said. "The rest of the group, including the Castilla players Salto, Lienhart, Achraf, Enzo, Odegaard and Tejero, took part in a session where the ball took centre stage."