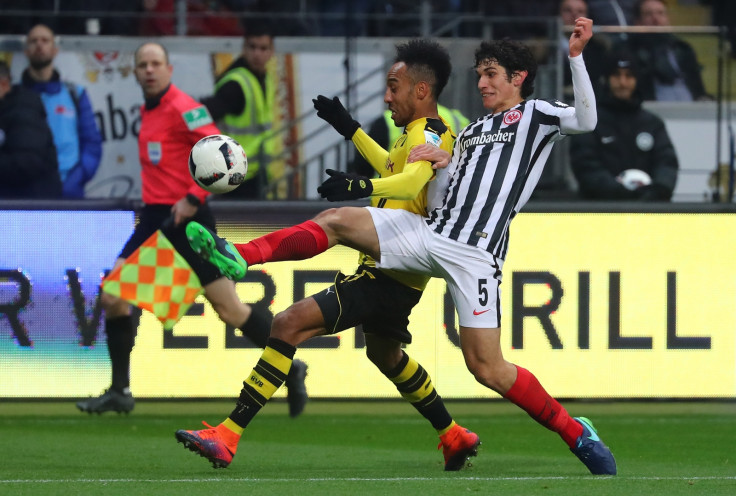 Real Madrid starlet Jesus Vallejo is ready to step up to become a mainstay of Zinedine Zidane's first-team squad in the coming 2017-2018 campaign.
Both Marca and AS are claiming Los Blancos have signalled to the 20-year-old centre-back that he will be major part of their plans. This comes after Pepe announced his departure from the Santiago Bernabeu last week.
The Champions League winners recruited Vallejo from Zaragoza in the summer of 2015 as a prospect for the future.
Real Madrid opted to keep him on loan at the Spanish second division side for the 2015-2016 season before sending him to Eintracht Frankfurt last summer in order to give the promising defender an experience of top-flight football.
The Spain U21 international has made the most of his opportunity in the Bundesliga to earn a place in Zidane's plans ahead of the coming 2017-2018 campaign.
Both Marca and AS say that Real Madrid informed Vallejo about Zidane's decision on Monday morning (12 January) and the club are expected to make it official in the coming hours.
Last week, Vallejo disclosed his wish to return to Real Madrid during the summer transfer window - but he admitted that he was still waiting for Los Blancos to make a decision.
"If I signed for Real Madrid it's because I wanted to play for them but I have no hurry. The important thing is to do things well and wait for my opportunity," Vallejo said when asked whether he would like to replace Pepe.
Pressed if he would prefer to return to the Bernabeu as soon as this summer, he replied: "Of course, but it is not something that depends on me. Real Madrid have to make the decision."
"At the moment [Real Madrid are yet to tell me anything]. They told me they would tell me once they made the decision. Now I am focused on the [Under 21] European Championship [in Poland]. No one has told me that [I could replace Pepe ahead of next season]. I do my work on the pitch and I must prove that I can be there."
Vallejo is set to represent the U21 Spain national team in the coming European championship - which starts on 16 June. He will then will join Zidane's side for the pre-season.
The Spanish starlet is expected to fill the gap left by the departure of Pepe after the Portuguese international failed to reach an agreement with Los Blancos over a new deal. He will serve as the fourth choice centre-back of Real Madrid behind Sergio Ramos, Raphael Varane and Nacho.
Real Madrid are yet to make any other signings but Vallejo is not the only one youngster expected to be added to Zidane's squad ahead of the new season. AS is claiming that Marcos Llorente will also return to Los Blancos after the holding midfielder enjoyed an impressive campaign on loan at Alaves.