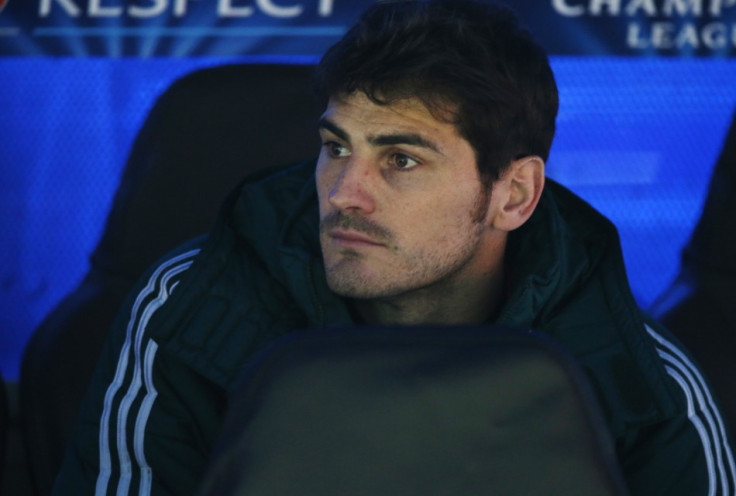 Real Madrid goalkeeper Iker Casillas reveals that the mental and physical problems caused by his current situation is forcing him to consider his future at the club.
The Spain international had a public falling out with Jose Mourinho last season. The former Madrid manager relegated the club captain to the bench in favor of Diego Lopez. After Mourinho's departure from the Bernabeu, it was expected that Carlo Ancelotti would restore Casillas to the starting line-up. The Italian however, has continued to play Lopez, who, in his time as starting goalkeeper, has been impressive.
Casillas speaks of how psychologically taxing the situation is, but assures that he will remain at the club so long as 'mind and body permit'.
"When you haven't played for such a long time, the truth is that lots of things go through your mind," Casillas told Marca. "What I really want is to stay here as long as my mind and body permit."
With regards to Diego Lopez, Casillas has nothing but praise for his performances.
"He has been superb," the World Cup winner added. "I need to grit my teeth, and make the most of it if the coach gives me a chance."
Casillas was given a chance in the Champions League game against Galatasaray, but was substituted after only 14 minutes due to an injury caused by an innocuous collision with Sergio Ramos.
The goalkeeper does not believe there is a campaign aimed at keeping him on the bench and is respectful to his critics.
"Not a campaign, no," he said. "At times you might feel like it's unfair, but on the contrary, I'm grateful for their support and I respect my critics."
"There has been speculation and many things have been said," he continued, "because lots of things have happened over a very long period of time, but I've never hidden away."
Casillas went on to assure Real Madrid fans that although from his perspective, the situation is regrettable, his "current objective is to stay" at the club.