Full time: Real Madrid 2-1 Barcelona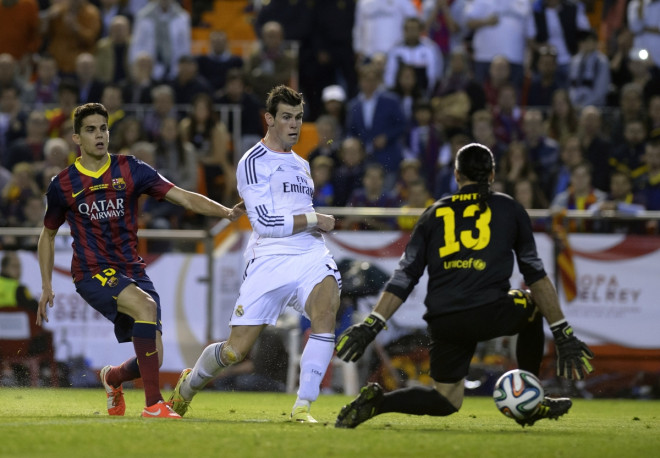 22:23: If you didn't know it already, Gareth Bale has arrived in Madrid. His goal has illuminated this Copa del Rey final and pilled the misery on Barcelona. Marc Bartra had cancelled out Angel di Maria's opener but Bale scored a stunning late winner to help win his first major honour at Real. For Barcelona, a third 1-0 defeat in a week has seen their season derailed.
That's all we've got time for this evening. We're back with the Premier League this weekend but until then goodbye.
Full time: Real Madrid 2-1 Barcelona - Real Madrid win the Copa del Rey

22:18: Barcelona push for the equaliser to force extra time and they should have grabbed it. Xavi plays through Neymar but the strikes the post with Casillas beaten. Amazing finish in store with three minutes added on.

22:14: What a goal from Gareth Bale! Coentrao releases the Welshman down the left, he skins Marc Bartra storms into the penalty area and pokes past the magnficent Pinto. His 20th goal of an amazing first season in Spain and that goal could end with his first trophy at Real Madrid. A truely breathtaking goal.

Goal: Real Madrid 2-1 Barcelona (Gareth Bale)

22:09: First glimpse we've seen of Real since the goal and it almost puts them ahead for a second time. Modric is released in behind Busqests and shoots goalwards only to be denied by the post.

22:06: Less than 15 minutes to go and are we heading for extra time? Barcelona well on top and Real can't get the ball on the counter. Only one winner in normal time you feel.

22:01: Another opportunity for Gareth Bale who accelerates down the left and shoots at the near post where Pinto is forced to beat the ball away.

21:58: Barcelona back in the final through the most unlikely of sources. Xavi's corner floats over Pepe and Bartra heads brilliantly in off the post and beyond Casillas.

Goal: Real Madrid 1-1 Barcelona (Marc Bartra)

21:55: The prime narrative of this game continues with more Real pressure on the break as Benzema shoots at the near post but Pinto turns it behind. Real think they have a crucial second through Bale's header but the Welshman is given offside.

21:51: The threat keeps coming from Real Madrid, even if their possession is limited. Benzema bares down on goal but Bartra gets in a challenge and the ball goes behind for a corner.

21:48: Pedro Rodriguez replaces Cesc Fabregas, who has been very poor this evening. Just 30 minutes for Barcelona to turn this around.

21:46: Better from Barcelona at the start of this second half with Real restricted to limited possession. Iker Casillas yet to be really tested though.

21:32: Second half under way in the Copa del Rey final. Adriano on for Jordi Alba in the only change.

21:23: Not the excitement we enjoyed in last month's Clasico but an intriging first half nonetheless. A wonderful flowing move from Real finished by Angel di Maria is the difference in the scoreline between the two sides but Barcelona have offered very little in attempting to get back into the game.

Half time: Real Madrid 1-0 Barcelona
21:13: First glimpse we've seen of Lionel Messi. Real get into a mess in their own area and Neymar tees up the Argentine but his first time shot is dragged wide.

21:08: Noticable how Barcelona seem very intent on suing crosses to penetrate the Real penalty area rather than their regular passing game which has done them so well previously. Possession but not pressure from Barca so far.

20:57: Barcelona struggling to break Real down in these early stages. Alba's cross from the left is in towards Neymar but the Brazilian is held off by Coentrao. In fairness, the Catalans are on top but they showing little threat.

20:43: Real Madrid hit the front with a clinical length of the field move. Isco, Bale and Benzema combine to set free Di Maria who holds off Busquets and slots the ball into the corner past a desparing Pinto dive.

Goal: Real Madrid 1-0 Barcelona (Angel di Maria)

20:38: Lots of questions over Gareth Bale's contribution tonight ans already he's involved. First he escapes down the left and shoots across goal but wide. Then he picks the ball up inside the area and turns but his right footed effort is deflected wide for a corner.

20:34: Just three minutes in and we already have the game's firsdt yellow card as Isco is punished for a foul on Neymar. Interesting policy given how this game has had the capacity to boil over in the past.

20:31: We're under way in the Copa del Rey final.

20:29: Teams are out in Valencia and we're almost ready to go. This one finished 4-3 in favour of Barcelona last month. This game rarely fails to live up to the billing.

20:25: As ever, there is plenty of signficance attached to tonight's game as the Mestalla where it's not only the first piece of silverware of the season that is up for grabs. With the Champions League gone and the league slipping away many feels Gerardo Martino's future rests on tonight's result. Just five minutes from kick-off.

20:15: Plenty of conerns over Barcelona's defence which is without Carlos Puyol, Gerard Pique and Victor Valdes and it seems like the ideal opportunity for gareth Bale to make his mark in a Clasico, something he has failed to do so far this season. Just the 19 goals and 16 assists for the Welshman this season.

20:05: So as expected Cristiano Ronaldo misses out for Real Madrid, who start with Gareth Bale who is seeking his first medal with the club. Marc Bartra is passed fit for Barcelona, who also include club captain Carlos Puyol in their squad. Lionel Messi naturally starts in attack.

19:55: Teams:

Real Madrid v Barcelona
Real Madrid: Casillas, Carvajal, Pepe, Ramos, Coentrão, Xabi Alonso, Modric, Di María, Isco, Bale, Benzema
Barcelona: Pinto; Alves, Mascherano, Bartra, Alba; Sergio Busquets, Xavi, Iniesta; Neymar, Cesc, Messi
19:45: Often a sideshow in Spain tonight becomes a battleground for supremacy. With Atletico Madrid just four wins from the La Liga, tonight's Copa del Rey final potentially represents the last opportunity for either Real Madrid or Barcelona to end the season with some silverware. Real of course have Champions League commitments but are without Cristiano Ronaldo tonight due to injury.
Barcelona meanwhile are threatening to end the season in misery. Knocked out of the Champions League by Atletico last week and defeated by Grenada in the league at the weekend amid a host of off the field controversies and scandals including fears over the happiness of Lionel Messi means tonight's game is as big as they come for the Catalans.
Half time: Real Madrid 1-0 Barcelona