Real Madrid are not considering the sale of Gareth Bale at any price as the Spanish giants believe the former Tottenham star will be the heir of Cristiano Ronaldo's throne once the Portuguese star ceases to be as good as he is now, reports in Spain claim.
Bale's future with the Champions League winners has been under scrutiny in recent weeks and he has failed to conquer the hearts of Real Madrid fans since his arrival to the Santiago Bernabeu from White Hart Lane in the summer of 2013.
Even though the Wales international scored crucial goals in both the Champions League and the Copa del Rey finals last season, he has been whistled at in fury by his own supporters during a number of games this term and has also received a number of Spanish media critics.
Chelsea, Manchester City and Manchester United are said to be interested in taking advantage of his situation by offering Bale a return to the Premier League, while they are reportedly ready to pay Real Madrid a lucrative fee close to the £89m ($132m) the La Liga side paid to Tottenham Hotspur to secure his services.
But Spanish newspaper Marca claims that despite the scrutiny from the fans, Real Madrid officials and club president Florentino Perez in particular have no doubt about Bale's prospects at the Bernabeu and believes the Welsh star is untouchable no matter what offer they receive.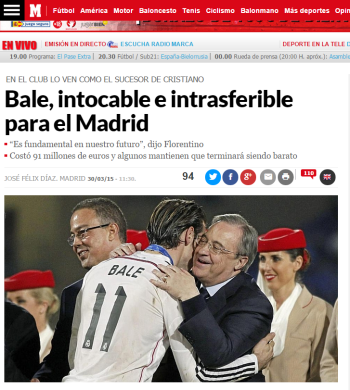 The reports claim Perez believes Bale is the third best player in the world, behind Ronaldo and Lionel Messi, and is convinced that sooner rather than later he will become the club's key player in place of the 30-year-old Portuguese star.
Marca even claimed that when Perez was recently questioned about an offer from United to sign the Wales international, the Real Madrid president said: "We shall never listen to any offers for Bale. He is the key to the club's future, just as I cannot imagine a future without Cristiano Ronaldo."
The Real Madrid president recently came out to publicly defend Bale after pundits and supporters suggested the former Tottenham hero should be dropped from manager Carlo Ancelotti's line-up.
"Gareth Bale is one of best players in the world and the most important team in the world fought for his services. His problem comes from press always being against him," Perez said at a press conference. "The only thing I can say is that we shouldn't forget what he was able to achieve in his first year at Real Madrid."