Luis Suarez and Gareth Bale made similar decisions when leaving Liverpool and Tottenham to move to the Camp Nou and the Santiago Bernabeu respectivey. However, their life in La Liga has since turned out very differently.
Bale made a £89m world record trip to Real Madrid in summer 2013 after being named the player of the year in the Premier League – ahead of Suarez himself – while scoring 21 goals in 33 domestic league appearances.
Suarez, meanwhile, joined Barcelona in a lucrative £65m deal the following summer after replacing Bale as the Premier League's marquee star, ending the 2013-14 season as the joint-top goalscorer in all European leagues alongside Cristiano Ronaldo.
Both left big Premier League clubs to jump into arguably the two most fashionable clubs in Europe. Both left teams in which they were unquestionably the pivotal forces to join clubs which already boast the two greatest players of the world in Cristiano Ronaldo and Lionel Messi.
While the Welshman looks like he has still to adjust to being a small fish in the Real pond, the Uruguayan has accepted that no one can contest Messi's claim to be king of the Camp Nou. Here is the big difference between the pair, and is why Suarez has fitted seamlessly into the Barça dressing room, while Bale is still struggling to win the hearts and minds of his fans and teammates at Real.
Suarez's challenge looked difficult if not impossible. He left Liverpool following a biting controversy and joined a club which had cast off Samuel Eto'o, Zlatan Ibrahimovic and David Villa due to their relationship with Messi.
But the Uruguayan, like Neymar before him, has received the approval of the Argentine thanks to his humility. Some questioned his clinical skills after scoring just five goals in his first 18 appearances for the Catalan side, but at that embryonic stage of his Barça career he was effectively sacrificing his personal success for Messi's, and the good of the team as a whole.
While the Blaugrana goal tally did not increase as much as some expected, he registered eight assists in his first 12 La Liga games to prove his worth to the Catalan culés. Once he had done that, he took another step forward and proved he had not forgotten where the goal was, netting eight times in Barça's next 10 games.
Meanwhile, at Real Madrid, nobody disputes Bale's stats - but they take real umbrage at his defensive commitment to the team and his lack of camaraderie. Bale's attitude has ensured that a player who scored key goals in both the Copa del Rey and Champions League finals is still disowned by his own fans.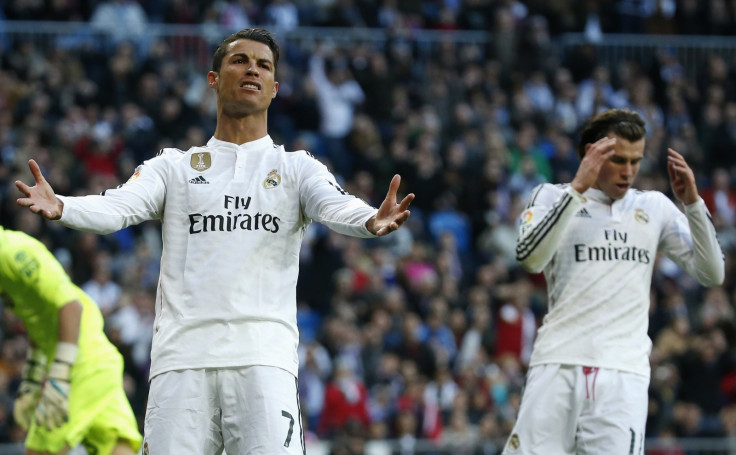 Many people in Spain believe there isn't space for both Bale and Ronaldo in the same team, and suggest that Carlo Ancelotti's 4-3-3 formation is totally inconsistent. However, Barcelona are proving the three-attacker system can work seamlessly should the attacking trio help each other with symbiotic diligence and humility.
It is true that Bale has been, individually speaking, the same pacy and clinical player at Real Madrid that he was at Tottenham. However, he has only really subsumed himself to the greater good of the team once during his time in Spain - during the 4-0 Champions League semi-final victory at Bayern Munich last season. In that game, he accepted that the team's triumph was more important than his personal success. He then became a full-back-cum-winger in a 4-4-2 formation when the team had to defend, returning to an attacking role in a 4-3-3 when the team went forward.
Real Madrid visit the Camp Nou on Sunday (22 March) in a decisive Clasico for the La Liga title with Lionel Messi and Cristiano Ronaldo under the spotlight. However, Bale and Suarez could prove the difference - not just for their goals but for their importance to the overall balance of the team.
Bale became Real's attacking spearhead when Ronaldo was injured in the Copa del Rey final last season, scoring the winner against the Catalans. However, this time, he will have to work for the Portuguese star in order to help his side secure a good result at the Camp Nou. If he fails, we could well see the Catalans'attacking trio, underpinned by Suarez, destroy their inconsistent opponents to take a giant leap forward in the title race.