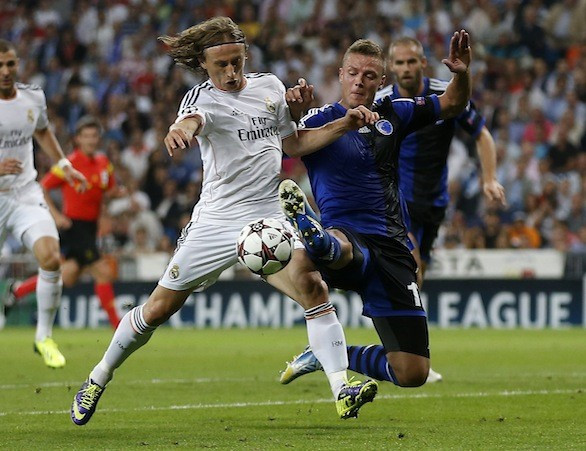 Luka Modric has revealed that he decided to move from Tottenham to Real Madrid in the summer of 2012 because he felt he needed to go to a higher level.
The Croatian playmaker joined Real Madrid two seasons ago after Spurs failed to secure Champions League football, as Tottenham finished the previous season in the top four but Chelsea got the place in the European tournament following their Champions League victory.
Asked in an interview with BBC Sport about his decision to leave White Hart Lane Modric said: "In one moment you feel you need to take a step forward, to go to a higher level."
"I think it was the right time for me to go, but I will always be thankful to Tottenham for everything they did for me. I became a better player there and they pushed me to this level where I am at the moment. I will always be a fan, I follow them a lot when I can," Modric said.
"I have great memories of Tottenham. I spent four great years there with a lot of emotions, with a lot of love from the club and the fans. I enjoyed every moment with Tottenham."
Los Blancos paid around £30m to Spurs to secure Modric's services and although he struggled in his debut campaign at the Santiago Bernabeu, he is excelling this season, with some pundits suggesting that he is the best Real Madrid player so far this campaign, even ahead of Cristiano Ronaldo.
"I had some difficulties at the beginning. I didn't have a complete pre-season - I trained on my own in London, I came later here and you need time for everything to get settled. I knew sooner or later I would show my quality and show to everyone why I'm here, why Real made such an effort to bring me here," Modric added.
"I had a lot of support from the ex-coach (Mourinho) - he did everything to bring me here and I'm grateful for that. At the beginning he was very helpful to ease my adaptation. By the time I was fit enough I started playing better and better. His tactics were never a problem for me."
Modric believes the moment that turned around his bad luck at Real Madrid was his amazing goal against Manchester United in last season's Champions League last 16.
"When I came on I changed the game, I scored that goal and after we scored another to win 2-1. That was the turning point for me and my career at Real Madrid. From that game, people started seeing why I'm here and my career at Real Madrid was all the time going up."
Last summer, he was linked with a return to the Premier League, with Manchester United and Chelsea both reportedly interested in acquiring his services. However, the Croatian international claims he did not consider a move away from Spain.
"I never considered leaving Real Madrid or that it was a mistake to come here. It was my dream come true when I signed for Real Madrid. I want to stay here for as many years as possible and, if it's possible, finish my career here."