Real Sociedad vs Barcelona: Luis Enrique discusses Luis Suarez absence ahead of massive Anoeta test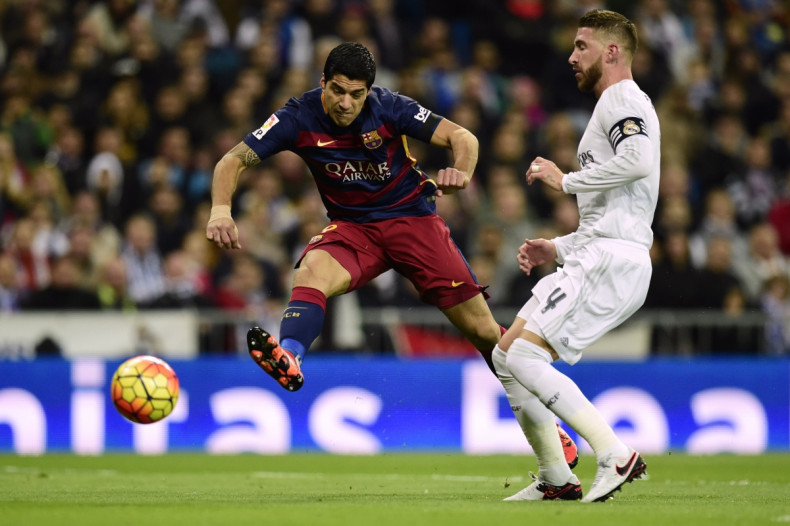 Barcelona manager Luis Enrique believes that the trip to Real Sociedad on Saturday (9 April) is the "toughest away game" of the campaign as the Catalans have failed to win in their last six visits to the Anoeta stadium. The manager, therefore, is expected to deploy a strong line-up to cope with the absence of suspended Luis Suarez. Just four days later his side will have an even bigger challenge in the Champions League quarter-final second-leg with Atletico Madrid.
The Catalans visit San Sebastian after a 2-1 victory against Los Colchoneros in the first round of the European encounter leave them with a slightly advantage for the Wednesday trip to the Vicente Calderon. Yet the Barcelona manager has urged his side to focus only in the Real Sociedad game as following the defeat in El Clasico last weekend, they saw Atletico Madrid and Real Madrid closing the gap with the top of La Liga table to six and seven points respectively.
Luis Enrique, nevertheless, has called the visit to San Sebastian as the most difficult of the campaign as Barcelona have failed to win in the last six games at San Sebastian – five in La Liga and one in the Copa del Rey.
"It doesn't only stretch back to our five (La Liga) last visits. La Real returned to the top flight nine years ago and Barça haven't been able to win there since before then. It's something that we have to analyse because the pitch there is always pristine, so that's not a factor," the Barcelona boss said in the press conference.
"It's a long run without a positive result in San Sebastián and we need to think about why we haven't been able to win there. It won't be a simple game. We're in a situation where we need to show that we are strong and assertive. This is an incredibly tough away trip. No team in Spain has the figures which La Real have managed against visiting teams, it's the toughest away game of the season".
Barcelona suffered a 1-0 defeat against the then David Moyes side in January 2015. Luis Enrique's position came under scrutiny after the loss for leaving on the bench two key players like Lionel Messi and Neymar amid speculations a fell out with several key members of the squad.
Asked whether he will dare to make rotations this time to have the players fresh for the game against Atletico, Luis Enrique replied: "There are different options open to us but I'm not going to give anything away because I don't want to give an advantage to Eusebio (Real Sociedad boss). I'd rather he found out an hour before kick-off but I always have the possibility to rotate or use the players who play more regularly".
"The game against Atletico will not condition my line-up. The only game in our mind is Anoeta. The only competition we care now is La Liga. The next will come later..."
One way or another the Barcelona boss will need to restructure his attacking line as Suarez is suspended after he saw his fifth yellow card of the season in El Clasico. Luis Enrique admitted that the former Liverpool star will be missed but he is convinced that his squad is enough good to cope with his absence.
"His absence will not affect my plans. He can't play but I have an incredible squad. He will rest and will watch the game on the TV," the Barcelona boss said while also backing his attitude during the last victory over Atletico when the striker was lucky to avoid the red card after after appearing to kick out at Juanfran.
"I think Luis Suárez is a very smart guy. He came here with a sanction to serve and he knows he's got all eyes on him...He's doing very well but he can still improve in all areas. He has to keep doing what he's doing, to use his body to get position, and fight for every ball...I love him, he's vital to our team because of what he brings from a football standpoint and because of generosity."
Munir has been usually the chosen one to replace the trio formed by Suarez, Lionel Messi and Neymar when one of the MSN components had been ruled out.
Asked about the development of the Barcelona academy forward, Luis Enrique added: "Munir has matured a lot this season, both as a footballer and as a person. He's ready for every opportunity. Every time we have needed him he has performed well. He's a player for the future."