Rebekah Brooks, former editor of News of the World, faces three charges of perverting the course of justice in connection with the phone hacking scandal.
Brooks, 43, has been charged alongside her husband Charles, her former assistant Cheryl Carter, Mark Hanna, former head of News International security, Paul Edwards, her chauffeur, and Daryl Jorsling, who also provided security.
They were informed of the charges, which could lead to prison, shortly before a public announcement was made by the Crown Prosecution Service.
Brooks said: "We deplore this weak and unjust decision. After the further unprecedented posturing of the CPS, we will respond later today after our return from the police station."
Alison Levitt, principal legal adviser to the director of public prosecutions, said: "All of the evidence has now been carefully considered.
"Applying the two-stage test in the code for crown prosecutors, I have concluded that in relation to all suspects except the seventh [unnamed], there is sufficient evidence for there to be a realistic prospect of conviction.
"I then considered the second stage of the test and I have concluded that a prosecution is required in the public interest in relation to each of the other six.
"All seven suspects have this morning been informed of my decisions."
The charges in full are:
Rebekah Brooks between 6 July and 19 July, 2011 conspired with Charles Brooks, Cheryl Carter, Mark Hanna, Paul Edwards, Daryl Jorsling and persons unknown to conceal material from officers of the Metropolitan Police Service.
Rebekah Brooks and Cheryl Carter between 6 July and 9 July conspired together permanently to remove seven boxes of material from the archive of News International.
Rebekah Brooks, Charles Brooks, Mark Hanna, Paul Edwards and Daryl Jorsling conspired together, with persons unknown, between 15 July and 19 July to conceal documents, computers and other electronic equipment from officers of the Metropolitan Police Service.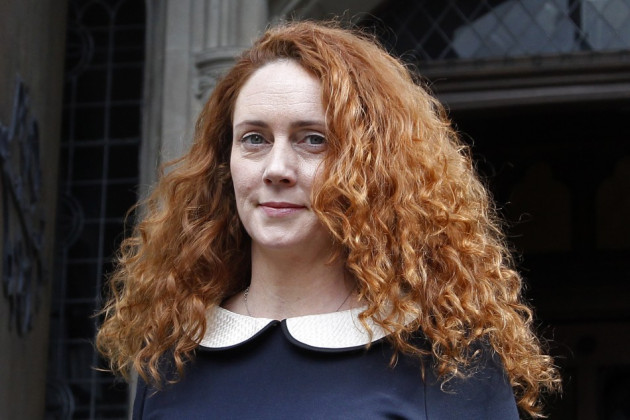 Brooks was the editor of News of the World when voicemail messages were hacked on the mobile phone of murdered teenager Milly Dowler.
She was first arrested in July 2011 on suspicion of conspiring to intercept communications and corruption, before being released on police bail.
She was again arrested on 13 March under police Operation Weeting and on suspicion of conspiring to pervert the course of justice.
The News of the World hacking scandal, which has been running for six years, began with the arrest of royal correspondent Clive Goodman and, subsequently, private investigator Glenn Mulcaire in 2006.
The resulting investigations of practices at the newspaper, which repeatedly claimed the hacking was the result of a single rogue reporter, led to millions of pounds being paid in settlements to victims of hacking and the closing of the Sunday tabloid in 2011.
Brooks gave evidence on 13 May at the Leveson Inquiry into press ethics, which is investigating the relationship between politicians and the press.
The six suspects will appear before Westminster magistrates court on a date to be determined.