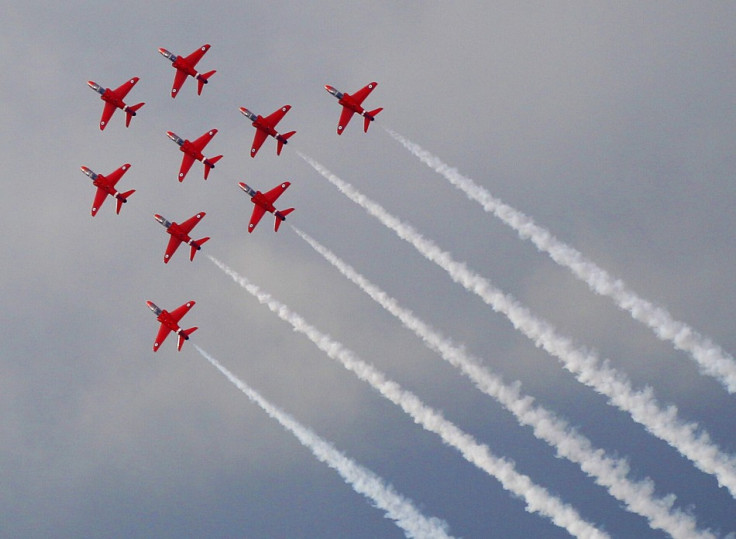 The Red Arrows will return to UK skies Friday for the first time since the death of Flight Lt Jon Egging August 20.
The Red Arrows will perform at Chatsworth County Fair in Derbyshire just two weeks after the death of Mr Egging, who was killed at an air fare near Bournemouth two weeks ago. The Flight Lt has been described as a hero by his colleagues and spectators after he managed to divert his plan away from nearby houses, preventing the loss of further lives, crashing instead into a nearby field.
A Red Arrows spokesman told the BBC that this afternoon's flight would be in memory of their colleague and hopes for a strong turnout in Derbyshire.
"Jon, as a Red Arrows pilot, encapsulated everything that is the best of British," Sqn Ldr Ben Murphy, said
"He was an exceptional pilot and a dedicated RAF Officer who saw service for his country but, moreover, he was a selfless and compassionate friend who will be sorely missed. The fortitude, resilience and pride that Jon showed in life are exactly the qualities that define our armed forces and it is these that will enable us to get back on our feet and move on," he added in a moving eulogy of his former colleague.
Sky News has reported that the Red Arrows team has been practising eight plan formations and plan to put on a 20 minute display at Chatsworth Friday afternoon but the second planned performance on Sunday has been cancelled. A performance at Portrush in Northern Ireland on Saturday has also been cancelled.
"We are delighted the Red Arrows have decided to take flight but it will be a day of mixed emotions. The show will be tinged with sadness as people remember Fl-Lt Egging" The Duke of Devonshire, whose estate hosts the fair, said.
For more information on where to buy tickets for the Chatsworth County Fair click here
For more information on Red Arrows display dates click here