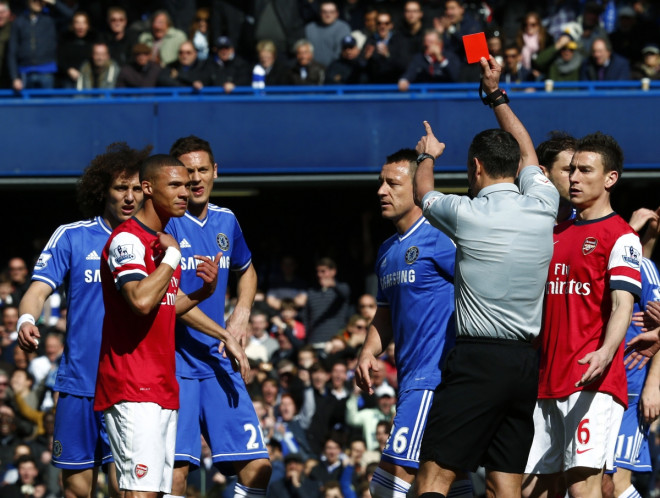 Andre Marriner has expressed his disappointment and apologised for sending off Kieran Gibbs instead of Alex Oxlade-Chamberlain during Saturday's Premier League game between Chelsea and Arsenal at Stamford Bridge.
In the 15th minute of the game, Eden Hazard's attempt on the Gunners' goal was diverted away for a corner by Oxlade-Chamberlain with the help of his hand.
As Chelsea players appealed for a penalty, Marriner discussed with his fellow officials on the microphone before making a decision.
He then decided to show a direct red card to a baffled Kieran Gibbs for the offence whilst awarding a penalty to the home side.
The youngster then went ahead to confess about his offence to the referee insisting that the left back was innocent.
However, Marriner was unwilling to change his decision and allowed the game to continue as Arsene Wenger's side went on to lose 6-0 against the west London club.
The statement released by the Professional Game Match Officials Limited read, "Andre is an experienced referee and is obviously disappointed that an error of mistaken identity was made in this case.
Incidents of mistaken identity are very rare and are often the result of a number of different technical factors.
"Whilst this was a difficult decision Andre is disappointed that he failed to identify the correct player. He expressed his disappointment to Arsenal when he was made aware of the issue."
However, the north Londoners will still be able to call upon the services of Gibbs for their next league fixture against Swansea City pending an appeal after the Football Association confirmed via their official Twitter account that clubs can appeal against the case of mistaken identity.
The tweet read, "Clubs can appeal mistaken identity to The FA, although The FA can pro-actively review also. Following a red card clubs can also review possibility of a wrongful dismissal claim to The FA, unless dismissal is for 2 yellow cards."
The drubbing at Stamford Bridge handed Arsenal a blow in the title race. They are now fourth in the league table with 62 points from 30 matches, seven behind leaders Chelsea who have played one game more.