Apple recently unveiled a next-gen MacBook - the MacBook Pro - at the World Wide Developer's Conference (WWDC). The new product features a Retina Display, with a resolution of 2880 x 1800 pixels, making it the highest resolution for a notebook display - with over five million pixels. In addition, the product is as thin as a MacBook Air and is the lightest MacBook Pro ever. It comes with two Thunderbolt ports and a HDMI port and has the ability to power three external monitors according to earlier reports by IBTimes UK.
Meanwhile, Japanese Web site IT Media has sought to measure the actual amount of heat generated by the Retina MacBook Pro and did so by using an infrared thermal camera.
In the first test, it measured how hot the device ran in sleep mode. The machine measured 30.3 degrees Celsius when it shut down with fans that were running at an inaudible 30 decibels. The rotation of the sound is inaudible unless the user's ear is close to the keyboard.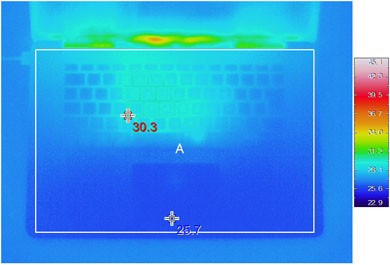 The second test ran QuickTime files for 15 minutes at a stretch and the temperature remained a maximum of 35.1 degrees Celsius.
"The cooled sir is sucked inside effectively from the bottom of both sides, and exit back to the rear side, the heat has been reduced to a level that does not bother me nearly as a whole," explained IT Media.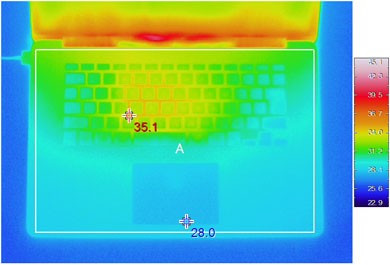 Finally, when IT Media ran intensive benchmark programs on the machine, the highest temperature reached was 48.2 degrees Celsius and the fan noise reached 46 decibels. The heat was reportedly extended to the keyboard and the CPU, which did create some difficulty. It is rather impossible to keep something that is nearly 50 degrees Celsius on your lap or even work with or on it.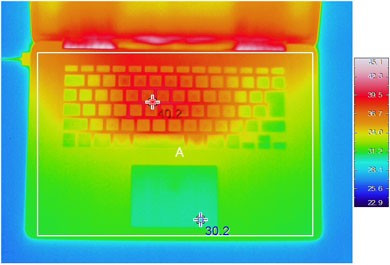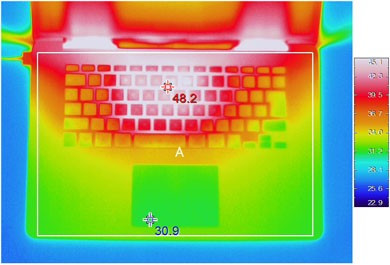 "Nevertheless, using it for normal purposes, the Retina MacBook Pro is indeed very cool and silent, and it shows that the special fan has had a considerable impact," claimed MacTrast. In addition, The Verge claimed that new Retina MacBook Pro remained "quite cool" when browsing the Internet or watching films but even with the new asymmetrical fans it could get as hot as other laptops if the user ran challenging software or games for extended periods.