Hackers have infiltrated the blogging platform of the Reuters News website and posted a false report about the death of Saudi Arabia's foreign minister.
The fabricated report, including fake quotes from a Saudi official, claimed Saud al-Faisal died when his health took a turn for the worst following surgery on his gut.
The report was illegally posted on a Reuters journalist's blog.
In response to the blog breach, Reuters said in a statement: "Reuters News did not report the false story and the fabricated posting on reuters.com has been deleted.
"Reuters had no immediate information on who was behind the hacking".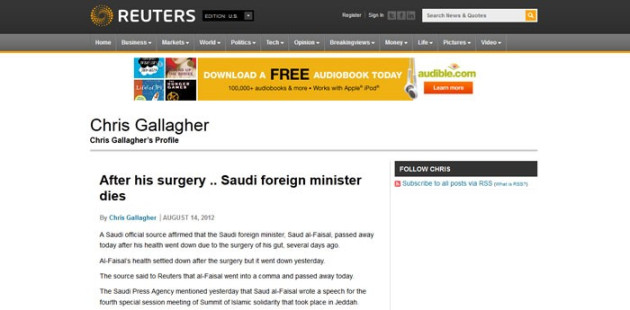 Pro-Assad hackers behind the hack?
Reuters' blogging platform has previously been hacked by what appeared to be Syrian pro-regime hackers.
In early August a false posting purporting to carry out an interview with a Syrian rebel leader was illegally posted on the Reuters News web site.
In the supposed interview, the Free Syrian Army (FSA) leader said the rebel forces had pulled back from the northern province of Aleppo where they had been clashing with the forces of Syrian president Bashar al-Assad.
Both Reuters and the FSA issued a statement in the wake of the phoney interview.
"Reuters.com was a target of a hack on Friday," the company said in a statement. "Our blogging platform was compromised and fabricated blog posts were falsely attributed to several Reuters journalists.
"One of the false posts purported to be an interview with Riad al-Asaad, the head of the Free Syrian Army. Reuters did not carry out such an interview and the posting has been deleted."
The FSA also issued a statement denying the interview ever took place.
A few days later, one of Reuters' Twitter accounts was hacked and up to 22 false tweets posted.
Most of the tweets referred to the Syrian conflict, with many carrying false reports about the scale of the FSA's losses in clashes with pro-Assad forces.
"FSA source confirms heavy losses within their ranks due to the superiority & sheer force of the Syrian army", a tweet read.
"FSA source complains that Syrian army 'broke their back' in Salah al Deen" another one claimed.
Reuters issued a statement explaining: "Earlier today @ReutersTech was hacked and changed to @ReutersME," said a spokesperson for Reuters, which is owned by Thomson Reuters Corporation. "The account has been suspended and is currently under investigation."