The Dell XPS 14z is billed as a 13-inch laptop with a 14-inch screen, and with its compact form factor and tiny screen bezel, the 14z looks to delivers on its promise.
Our test unit came with a 2.4 GHz Intel i5 processor and 4GB of RAM, and is priced at £799 when it goes on sale in the UK on November 15.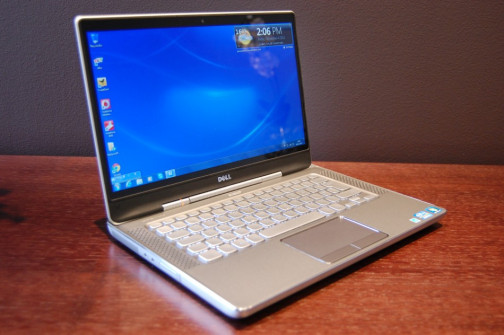 Look and Feel
Dell has clearly taken a few design cues from Apple with the 14z; it's sleek, silver case, edge-to-edge glass screen and one-piece keyboard surround give more than a nod towards the MacBook Pro range. While not being a true Unibody design, the 14z does feel incredibly study and well made, there's no give when picked up from one corner, and the screen - although thin - has very little flex. One slight disappointment would be the screen hinge cover. It looks like a tightly coiled spring and is in three sections which don't all line up neatly. It's just a small visual distraction, but an annoying one nonetheless. Also, the centre part of the hinge cover moves a little when touched. Nothing to worry about but, again, annoying.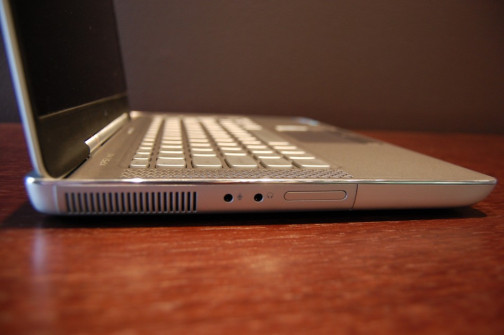 While we're looking at the screen, it's a 14.1-inch display capable of playing 720p HD video. The screen can go incredibly bright, which goes some way to counteract the glare produced by the glass panel. At around 40 per cent brightness all but the very brightest reflections are removed, and at 100 per cent it proved to be too bright for indoor viewing.
Dell is marketing the XPS 14z as a power laptop that is also portable, and it holds up well to both of these requirements. It is a little on the heavy side, at 2kg, but the slim profile - 35mm thick when closed - nearly makes up for the weight. Despite having a 14-inch screen, the 14z slide comfortably into a bag designed for 13.3-inch notebooks. As with anything bigger than a netbook, using the 14z in a packed commuter train is never going to be easy, but it is just about possible to position the Dell on a seat-back table.
Keyboard
The keyboard was, for us, a let-down. While the spacing is good - similar to that on Apple's range - the keys are too soft when pressed and don't provide satisfying feedback at all. Also, and more annoying, is the colour scheme of the keys, letters and backlight. The keys are silvery grey, and so is the backlighting. By default the backlight is always on - there's no light sensor to turn it on and off - and with it on in daylight the keys are almost impossible to read.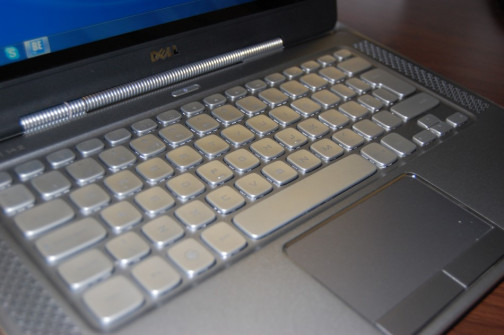 Pressing FN and F5 turns the backlight off, making the keys more visible in daylight, but the lack of a sensor to automatically adjust the lighting is disappointing.
The trackpad is large, smooth and responsive, with a neat chrome border, but as with the keyboard, the buttons are a little too soft for our liking - a more tactile feedback would be appreciated. The trackpad supports multitouch, with two-finger scrolling, pinch-to-zoom and a four-finger flick to switch between open applications. While not as large as most Apple trackpads, the Dell's feels comfortably big enough for most multitouch gestures.
Ports and Features
The Dell XPS 14z has its various ports located on the back, and these include power, DisplayPort, HDMI, USB 2.0, USB 3.0 and Ethernet. On the left there's an SD card slot, headphone jack and microphone port; and on the right there's a slot-loading DVD burner and battery life indicator. Reaching around the back to connect and disconnect devices is a pain, and something we're more used to seeing on a desktop. Dell might argue that it keeps your desk tidy, with USB sticks and hard drives out of sight, but we'd rather have the convenience of them being on the sides.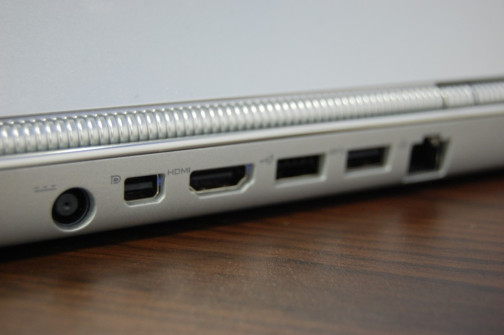 Only having two USB is a major let down; a laptop with decent performance would be expected to offer more connectivity than the XPS 14z does.
The built-in webcam is of acceptable quality, as is the microphone. The camera can be used to recognise a user and automatically log them in; in our tests this worked well and always identified the right user, but the process takes a good few seconds and it's probably easier to just click on your name instead.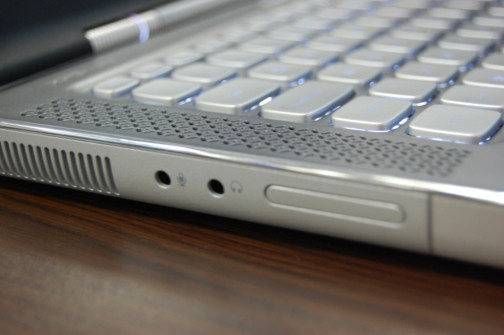 Battery Life
We used an application that runs the processor at full tilt to test battery life under heavy load - such as when playing an intensive 3D game. The Dell managed 1 hour 30 minutes before throwing in the towel and entering sleep mode with 5 per cent of battery remaining. This 90 minutes represents the very worst life you can expect to get; with the processor and graphics card working flat out and the screen set to its brightest level.
During testing we got excellent battery life when browsing and typing with the screen at half-brightness. With light to moderate use we saw between four and six hours of life - impressive for a laptop of this performance, and again adds to its claim of being a portable machine.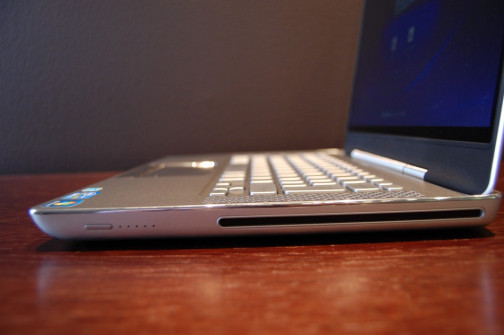 Performance
Our test unit had a 2.4GHz Intel i5 Sandy Bridge processor and 4GB of RAM. What this means in the real world is that the XPS 14z is powerful for its size and price, while still offering good battery life, thanks to only using the entire processing power when needed. While running a battery-killing application to test life under heavy load the laptop didn't get too hot and the fans remained relatively quiet. After over an hour and a half of processor-hogging testing the laptop would still sit comfortably on your lap, and only a small section of the left palm rest became hot.
HD content plays without a hitch, but the graphics card isn't as new as it could be, meaning high-end games will stutter on higher detail and resolution settings.
Using the popular Geekbench application, the XPS 14z scored 5093, ranking it between the 15-inch i5 and the 17-inch i7 MacBook Pros - which are both considerably more expensive than the Delll.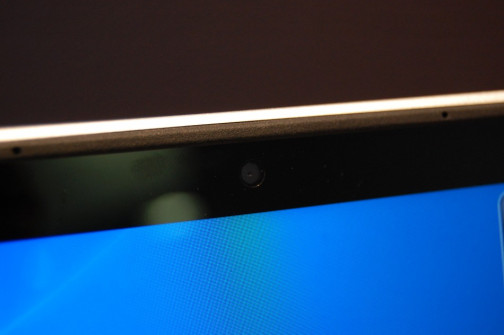 Conclusion
The Dell XPS 14z offers a large screen for its size and good performance, too. With a sturdy, high quality design, the laptop goes some way to bridge the gap between small travelling notebook and powerful gaming machine. Its anodized aluminium case gives the impression of a premium product and the 14-inch glossy screen is crisp and bright enough to mostly overcome any glare. The keyboard is a let-down, as is the number of USB ports and high weight. The trackpad is a nice size and multitasking performance is quick and responsive - although certainly not on par with Apple products.
The Dell offers good value for money, starting at £799 when it goes on sale in the UK on November 15, but the weight might be enough to put some shoppers off - a 14-inch laptop should be highly portable and as light as possible.
Rating
6/10 - Good looks, solid build quality and good battery life, but carrying a bit too much weight and the feel of the keyboard remained disappointing throughout our week of testing.