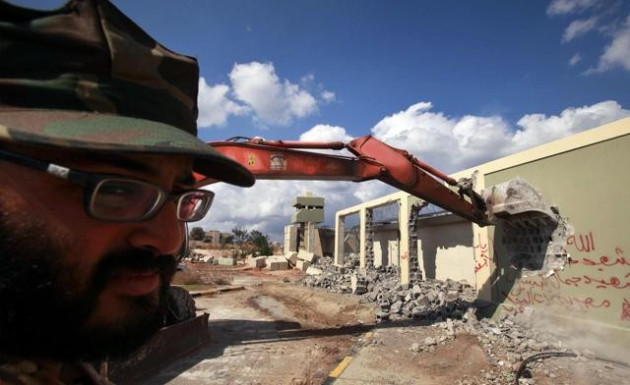 Libyan revolutionary forces have bulldozed the green walls surrounding deposed Libyan leader Muammar Gaddafi's compound in Tripoli.
The expansive, fortress-like compound known as Bab al-Aziziya has long been a feature of Gaddafi's oppressive regime and its seizure in August was seen as indicative of a turning point in the civil war.
Ahmad Ghargory, commander of a revolutionary brigade, told the Associated Press that the area will now be turned into a public park open to all Libyans.
"It's the revolutionary decision to tear down this symbol of tyranny," he said. "We were busy with the war, but now we have the space to do this."
The courtyard in front of Gaddafi's former residence, the venue of a number of inflammatory speeches during the uprising, has already been turned into a weekly pet market.
Interim leaders said it was time "to tear down the symbol of tyranny".
However, many Tripoli residents said they would not venture near the compound, fearful of security guards on the high walls still standing.
"I cannot explain these feelings," Farouk Alzeni, 25, told Associated Press. "I have never touched this wall because of this place's heavy security."
Revolutionary fighters have isolated Gaddafi loyalists into one main district in his hometown of Sirte following weeks of fighting, but the whereabouts of the fugitive leader are still unknown.