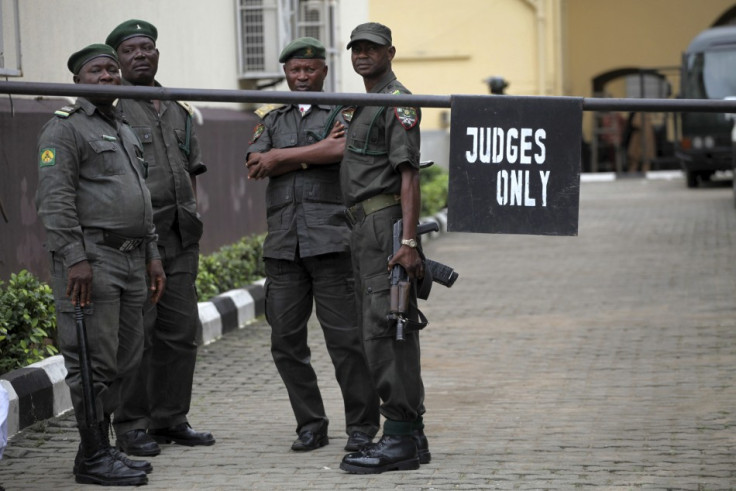 The Chairman of Nigeria's National Human Rights Commission was questioned by police for five hours following accusations security forces summarily execute over 2 500 detainees every year.
Dr Chidi Anslem Odinkalu was questioned by federal police at their Abuja HQ for five hours, the web site Vanguard revealed.
Two lawyers who were accompanied him were prevented from attending the interrogation sources said.
Police asked Odinkalu to write a statement backing up his claims, a move the right activist refused.
Odinkalu landed in trouble after it emerged he had accused police of committing thousands of extra-judicial killings during a presentation at an event organised by the National Association of Judiciary Correspondents in Abuja last month.
Odinkalu alleged: "The response of law enforcement to the incapability of the legal system to ensure convictions is an epidemic of third degree policing, torture and extra judicial executions. By some estimates, the police execute well over 2,500 detainees summarily every year."
"In one sentence, our criminal justice system has normalized abnormality.
"Many detainees in police cells are held in prisons for over the constitutionally permissible 48 hours and many police cells have detainees who have been held without being arraigned for over six months and, in some cases, over 12 months," Odinkalu said at the end of the presentation.
Two weeks after the event, Odinkalu received a letter from the new Acting Inspector General of Police Mohammed Abubakar accusing him of saying police "executes over 5,000 detainees summarily, every year."
In the letter Abubakar is said to have explained police viewed the rights activist's statement as "vexatious especially against the backdrop of its grave and negative implications on our National and Corporate image." Abubakar then asked Odinkalu to "provide evidence or facts to support your (his) assertion."
Unlawful Killings and Enforced Disappearance
In a 2009 report titled Police 'kill at will', Amnesty International said Nigeria police was responsible for "hundreds of unlawful killings every year. Police don't only kill people by shooting them; they also torture them to death, often while they are in detention.
'The majority of the cases go investigated and the police officers responsible go unpunished. The families of the victims usually get no justice or redress. Most never even find out what happened to their loved ones, ' the organisation warned.
In 2011, in its annual report, the rights watchdog said widespread disregard for human rights and due process within the police force continued.
"Hundreds of people were killed by the police in 2010. Many were unlawfully killed before or during arrest in the street or at roadblocks, or subsequently in police detention. Many other people disappeared after arrest. A large proportion of these unlawful killings appeared to be extrajudicial executions. Most perpetrators remained unpunished. In May, the NGO LEDAP (Legal Defence and Assistance Project) estimated that in 2009 at least 1,049 people had been killed by the police. "
The organisation also revealed police routinely tortured suspects, including children.