Neymar has been tipped to take the baton of Lionel Messi and Cristiano Ronaldo in the short-term. The 24-year-old star has already won everything for Barcelona but his Argentinian teammate can tell him that to be the real heir of Pele and Diego Maradona he will also need to perform on the international stage. Rio 2016 appears to have arrived at the perfect moment and place for the former Santos diamond to give the next step to the elite.
Messi did win the gold medal at the 2008 Beijing Olympics while a teenager. However, it was worth nothing for his critics as the current Ballon D'or winner failed to replicate that success in successive major tournaments, and last month he decided to give up following the Copa America final defeat to Chile.
Neymar's 46 goals in 70 appearances for Brazil since his debut in 2010 look like a record as are the 55 goals which have seen Messi retiring at the Argentina's all-time leading goalscorer. However, Brazilians just care about the fact that those individual stats have not been enough to win a major tournament as a team in four different attempts – Copa America 2011, London 2012 Olympic games, World Cup 2014 and 2015 Copa America.
Neymar won the Confederation Cup against Spain in 2013 but should he want to put his name in the history books conquering a major tournament for his country will be a must. The victory in the Rio 2016 Olympics will not automatically mean that the Brazilian will be ready to overtake Messi but it will be a good first step to avoid replicating the disappointment of his pal.
Yet, with his homeland hosting the tournament this summer anything but a gold medal will be considered a disappointment. That could lead him to the scrutiny which his Barcelona teammate has enjoyed since he saw a red card in his fateful debut against Hungary in 2005.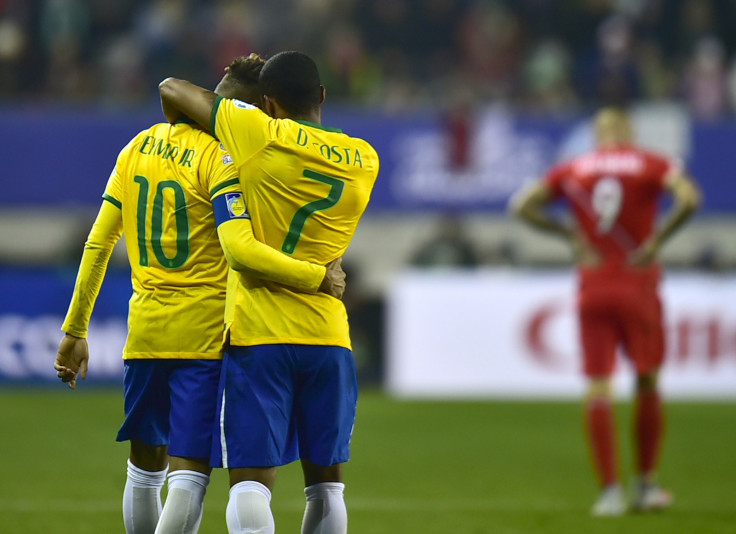 Winning the gold medal has thus become not an option but an obligation for a country which has all their summer hopes in their football team – in London 2012 Brazil only won 17 medals.
A victory would probably put Neymar onto the level of the likes of Ronaldo, Ronaldinho, Romario and other previous compatriots who wrote their name in the history of the Brazilian football only behind Pele. Nevertheless, Brazil have surprisingly never won the Olympic Games and Rio 2016 looks the perfect scenario to put an end to such a hoodoo.
Neymar has the chance to conquer his country forever and letting them to forget his personal disappointments the last two times he defended his country. The Barcelona ace missed the 7-1 semi-final humiliation to German in the World Cup 2014 due to an injury and also bailed from Copa America 2015 after seeing red in the second group game against Colombia.
Brazil cleared him to play the latest Copa America to be fresh for the Olympics and now he has no excuse but to repay them with a Ballon D'or-esque performance in Rio. He will surely miss Messi but Douglas Costa and promising Gabriel Jesus could be the perfect guardians that his Barcelona pal has missed whenever he has tried to find a success for Argentina.