After initially appearing as a demonstration sport at the 1924 games in Paris, volleyball made its official Olympic debut in 1964 in Tokyo. The Soviet Union men's teams dominated its first two instalments, with Japan denying them a third successive gold in 1972.
Having been cleared to compete after the doping scandal that rocked their country, Russia will be defending their men's title in Rio this summer, while Brazil will attempt to do likewise on their own turf in the women's event. Beach volleyball is a relative new comer to the Olympics, making its first appearance in Atlanta in 1996. Its events have been dominated by USA and Brazilian teams ever since.
Rules and format
In volleyball, each team is made up of six players on each side with each game contested over the best of five sets. Sets are played up to 25 points – unless the contest goes to a decisive fifth, which goes up to 15 – and must be won by a two-point margin. The aim of the game is simple; don't let the ball touch the ground. Catching or throwing the ball is also a no-go.
In attempting to secure points, teams are permitted to touch the ball no more than three times before hitting it over the net, which stands at 2.43m tall in men's matches and 2.24m in women's.
Beach volleyball rules differ slightly. Matches are the best of three sets and teams are made up of two players.
A total of 386 athletes will compete across four events in Rio: men's indoor volleyball, women's indoor volleyball, men's beach volleyball and women's beach volleyball. Twelve teams compete in each indoor event, while 24 battle it out for Olympic gold in beach events. Indoor events see teams divided into two groups of six with the best four teams moving into the knockout rounds. Three points are awarded for a 3–0 or 3–1 win, two points for a 3–2 win, one point for a 2–3 loss and 0 points for a 1–3 or 0–3 loss.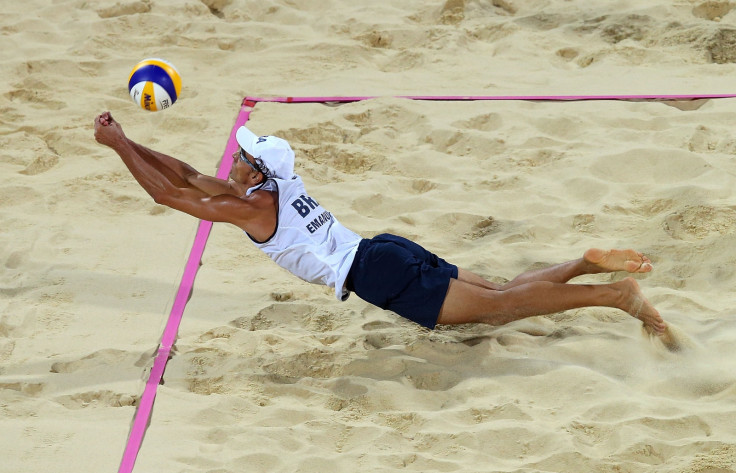 Key terms
Tomahawk: A defensive shot where a player uses both hands to lift the ball back over the net.
Peeling off: When a defender pulls away from the net and takes up a deeper position in anticipation of a slower attacking move that is knocked to the back of the court.
Husband and wife: When the attacking side serve directly down the middle in between the two players in beach volleyball, hoping indecision between the two gifts them a point.
Athlete to watch: Larissa Franca
Thirty-four-year-old Brazilian Franca has dominated beach volleyball, winning more titles than anyone in the history of the sport with 57 International Federation of Volleyball (FIVB) gold medals. There is one glaring omission from her list of triumphs, however; Olympic gold. That ship looked to have sailed when she retired following London 2012, but she returned just two years later with a new partner in Talita Antunes.
Venue
Outside football, there probably isn't a sport more closely associated with the city of Rio than beach volleyball. The sands of the Copacabana beach will host this summer's events, while indoor competition will take place across town at the wonderful Maracanãzinho arena, which was renovated after the 2007 Pan American Games.
Schedule
Indoor volleyball
6 August to 15 August: Men and women's preliminary rounds
16 August: Women's quarter-finals
17 August: Women's quarter-finals, men's quarter-finals
18 August: Men's quarter-finals, women's semi-finals
19 August: Women's semi-final, Men's semi-final
20 August: Men's semi-final, Women's bronze medal match
21 August: women's final, men's bronze medal match, men's final
Beach volleyball
12 and 13 August: Men and women's round of 16 matches
14 August: Women's quarter-finals
15 August: Men's quarter-finals
16 August: Men and women's semi-finals
17 August: Women's final and bronze medal play-off
18 August: Men's final and bronze medal play-off