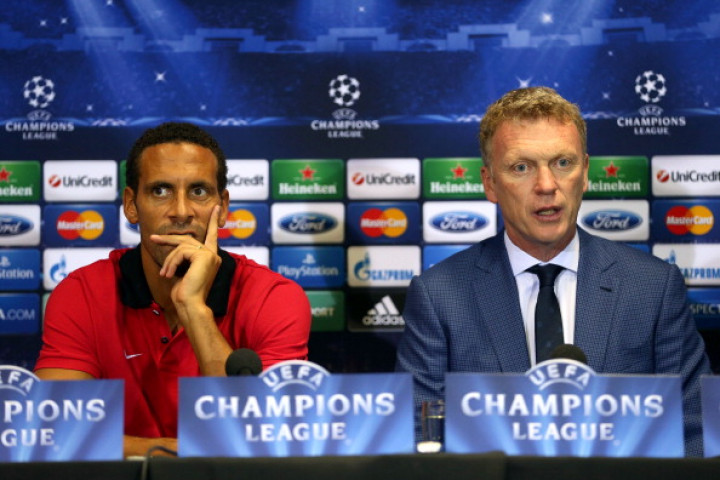 Former Manchester United defender Rio Ferdinand has revealed that David Moyes created a negative vibe during his tenure at Old Trafford.
The Red Devils' executive vice-chairman Ed Woodward showed the Scot the exit door just after 10 months into his six-year contract. Last season under Moyes' guidance, United finished seventh in the league table and are out of the European competition this season.
Ferdinand left United on a free transfer and joined Harry Redknapp's Queens Park Rangers earlier this summer. The 35-year-old admitted that he did not enjoy his time under Moyes with the 20-times English champions.
"He tried to impose a vision but never seemed to be completely clear what that vision should be. Unintentionally, he created a negative vibe where, with Fergie [Sir Alex Ferguson], it had always been positive," the Daily Mail quoted Ferdinand as saying.
"He'd slowly lost us. I didn't enjoy playing under him. Sometimes our main tactic was the long, high, diagonal cross. It was embarrassing."
"Moyes' innovations led to negativity and confusion. It was always how to stop the other side. Moyes set us up not to lose. We'd been accustomed to playing to win," the centre-back concluded.
Ferdinand returned to Old Trafford with his new club QPR on Sunday. United registered a 4-0 comfortable victory as Louis van Gaal registered his first win as Red Devils' manager.
Meanwhile, United have strengthened their squad by adding Ander Herrera, Luke Shaw, Marcos Rojo, Angel Di Maria, Daley Blind and Radamel Falcao in the summer transfer window.
After the Old Trafford club's latest result, Van Gaal told his players that victory over QPR was "a new start" for the team.
"I said to the players, we have to make a new start, today. We start now. I now have my selection, 27 players. These will be our players for the season," Van Gaal explained.
"We made four goals, and in spite of our loss against Swansea and the draws [against Sunderland & Burnley], we were the better team but we failed to make goals. Today we made goals and created chances."
"I'm very happy with the goals and in the second half we had a lot of chances," the United manager added.