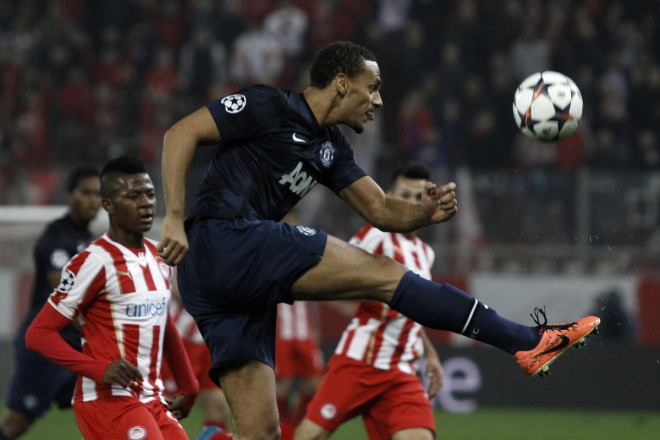 David Moyes may yet become the biggest casualty of Manchester United's defeat to Olympiakos which leaves their participation in this season's Champions League hanging in the balance. But aside from a performance which lacked impetuous throughout, there was an even greater deficiency elsewhere.
Rio Ferdinand will know better than most the difficulties of a transition. Across 12 years at Old Trafford, despite claiming 10 major honours, the ex-England captain has known change better than most having spearheaded two overhauls under Sir Alex Ferguson.
Therefore, Ferdinand will need no convincing that United's current season which sees them facing a campaign without a major trophy for just the second time in the last two decades, must be followed by significant servicing of the first team. Telling Ferdinand, 35, that his departure must start the rebuild, is an altogether tougher task.
Though Ferdinand's United career was celebrated with much fanfare in a testimonial in August against Sevilla, his performance against Olympiakos represented the latest embarrassing comedown from over a decade at the top.
Dogged by injury through the final third of his career, Ferdinand floudered against an Olympiakos attack which would have been better suited in the lower echelons in the Premier League. If pace is no longer Ferdinand's friend, then positioning and accurate distribution has seemingly been removed from his artillery also.
Coming away from the Karaiskakis Stadium with a 85% passing success rate he might of – despite a number of long passes going astray - but the truth is Ferdinand's performance was such that it stuck out amid United's ineptness in Athens.
Captain Nemanja Vidic is already confirmed as the first departure as the end of the season, and even if the Serbian is expected to secure a move to Inter Milan, the move is as much to do with an admission he no longer possesses the capabilities to perform at the very top as much as it is a vote of no confidence in United's ability to resume their domestic dominance.
With a new contract no closer to be negotiated, let alone agreed, it's time for Ferdinand to leave with similar dignity. His off-the-field interests suggest a role within the game is unlikely so instead of allowing for a seamless transition, Ferdinand is better off withdrawing completely.
United's new era is unlikely to start before the memories of this season are firmly extinguished, and the dead wood is removed and Ferdinand represents the deadest of all wood within Old Trafford. Before his United legacy is tainted with recollections of performances as a novelty defender, Ferdinand must do the decent thing.