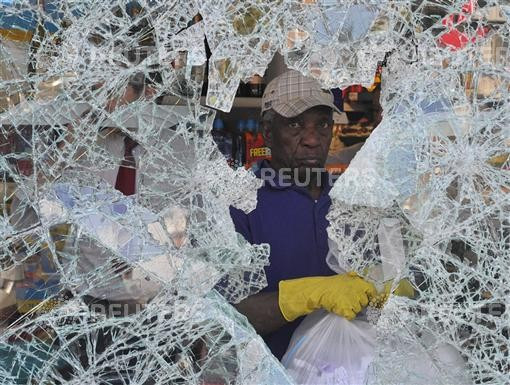 Retailers bore the brunt of the riots which started in Tottenham on Saturday night and have since spread across the capital.
British retailers face tens of millions of pounds in costs and losses following rioting, looting and arson across and beyond London, and the impact on smaller businesses could be terminal. "It will amount to tens of millions of pounds in terms of damage to property, goods stolen, and of course lost business," said Richard Dodd, head of media at the British Retail Consortium.
The three nights of rioting in London spread to Birmingham, Bristol, Leeds, Liverpool and Nottingham on Tuesday, leaving British retailers in fear of vandalism, looting and arson costs that could rise into tens of millions of pounds.
British Retail Consortium (BRC) said such retailers will face long term problems with damaged properties affecting reputations as well as short term problems from stolen goods.
In Greater Manchester, rioters set the Miss Selfridge store in Market Street alight. Diesel, Foot Asylum, Marks & Spencer and Salford Shopping City also came under attack by as many as 2,000 people, said Elle.
700-800 rioters, many of them young, overran Birmingham's main shopping district, smashing Adidas, Armani and Pandora shop windows.
Earlier in the week, rioters smashed windows on the city's Louis Vuitton store; no looters gained entrance and no goods were stolen.
Despite chaotic incidences it seems some retailers are standing against the riots, as Brixton and Wood Green H&M stores reopened after being looted on Monday night.
H&M spokesperson Laura Maggs said: "Things are changing every day. We continue to monitor developments closely and take guidance from the local police and authorities." said Elle.
Debenhams's Clapham store remained closed into Wednesday, as a police cordon is still in place and staff hasn't had access to assess the damage. 'Our priority is the safety of our staff.
A representative said. "We are working with the police and at the moment that store remains closed."
Britain's biggest retailer Tesco said several stores in London and other cities had been affected overnight, but all except one store in Liverpool had re-opened this morning. "We will cooperate fully with the police in bringing these criminals to justice," quotes the Hindustan Times.
Yesterday retailers held an emergency meeting with Theresa May, the Home Secretary, to express their sense of helplessness - and anger - that they had received little support during the violent riots that erupted across London and parts of Britain.
Stephen Robertson, the director general of the British Retail Consortium (BRC), an industry body representing about 90% of UK retailers said:
"Staff are being intimidated and traumatised; those responsible must be prosecuted and punished. Retailers and their staff are particularly vulnerable and need protecting" reports Drapers.
Peter Cowgill, the executive chairman of JD Sports, which has been one of the worst hit companies, said: "I feel like being physically sick. The way it has gone viral is so depressing" quotes the Telegraph.
He estimates that up to 30 of his stores have been damaged; the financial impact for his chain alone is "a substantial multi-million pound bill", probably in excess of £10m.
However, perhaps most worrying of retail stores affected by the riots are the effect the riots have had on the smaller stores specifically there lack of funds to re-open.
Michael Weedon, the deputy chief executive of the British Independent Retailers Association, said many small stores, already struggling in the consumer slow down would decide they could not afford to re-open, especially in streets where three-quarters of the shops had been destroyed, reports the Telegraph.
Insurance experts said that most stores, even small independent ones were insured for damage caused by riots, but it was less clear cut if they had lost business if they had closed early out of fear, or if they had failed to receive stock because of disruption to deliveries.
Follow Zara Bokhari on Twitter: @zara_bokhari