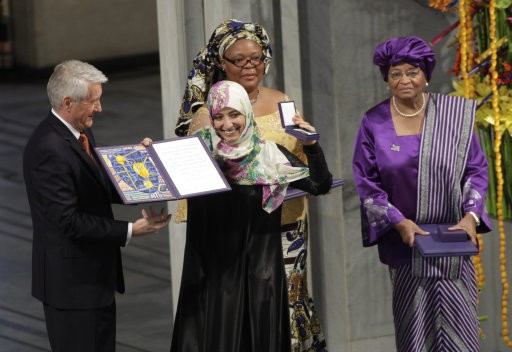 It was the call for the repressed women all over the world to rise up against male supremacy that echoed in the Oslo City Hall on Saturday. Three women were awarded the Nobel Peace Prize for fighting injustice, dictatorship and sexual violence in their respective countries, Liberia and Yemen.
The Nobel Peace Prize 2011 was awarded jointly to Ellen Johnson Sirleaf, Leymah Gbowee and Tawakkol Karman "for their non-violent struggle for the safety of women and for women's rights to full participation in peace-building work."
"My sisters, my daughters, my friends -- find your voice," Ellen Johnson Sirleaf, the first democratically elected female president of Liberia said while collecting her Nobel diploma and medal at a ceremony in Oslo.
Sirleaf, has shared the Nobel Peace Prize with fellow Liberian women's rights campaigner Leymah Gbowee and Tawakkol Karman, a journalist and activist from Yemen. Karman is the first Arab woman to win the prize and the youngest Nobel peace laureate ever.
Nobel prizes in other fields were given in a ceremony held at the Stockholm Concert Hall in Sweden. Here is the list of 2011 prize winners.
Physics: Saul Perlmutter, Brian Schmidt and Adam Riess for "for the discovery of the accelerating expansion of the Universe through observations of distant supernovae."
Chemistry: Dan Shechtman for the "discovery of quasicrystals."
Physiology or Medicine: Bruce Beutler and Jules Hoffman for their "discovery of activation of innate immunity." They conducted the research alongside the third prize winner, Ralph Steinman, who died three days before the announcement.
Literature: Tomas Transtromer, Swedish writer and poet, for his condensed translucent images."
Economic Sciences: Thomas Sargent and Christopher Sims for their "empirical research on cause and effect in the macroeconomy."