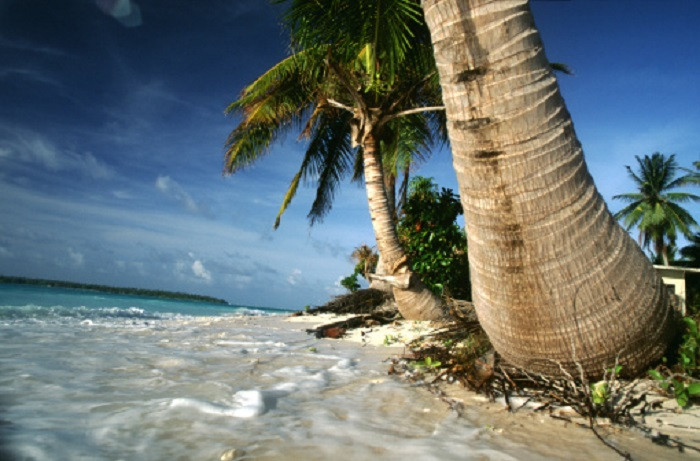 Rising sea levels have exposed skeletons of soldiers killed on the Marshall Islands during the second world war.
The islands' foreign minister Tony De Brum said high tides exposed one grave with 26 remains, which are believed to belong to Japanese troops.
Speaking on the sidelines of UN climate talks in Bonn, De Brum said: "We think they are Japanese soldiers - no broken bones, no indication of war; we think maybe suicide."
The Marshall Islands were occupied by Japanese forces until they were driven out by US forces in 1944.
Global warming has caused parts of the Pacific Ocean to rise faster than the global average, with the Marshall Islands particularly vulnerable to changes in sea levels.
Rising tide levels have eroded about 300 metres from the tip of the capital island of Majuro over the past 20 years.
The UN said the tropical western Pacific is experiencing almost four times the global average rate of sea level increases, with waters rising by up to 12mm a year between 1993 and 2009. The global average is 3.2mm a year.
The UN predicts that the global average sea level may increase by 26cm-98cm by the end of the century.
The islands, which are comprised of 26 atolls and home to around 70,000 people, have a high point of just two metres above sea level.
"These last spring tides in February to April this year have caused not just inundation and flooding of communities but have also undermined regular land, so that even the dead are affected," De Brum said.
"There are coffins and dead people being washed away from graves, it's that serious."
De Brum urged fellow ministers to commit to cutting carbon emissions. Negotiators are aiming to reach an agreement on the text that will form the basis of a new global treaty to be signed next year.
Ministers aim to publish their carbon reduction commitments by the spring of 2015 at the latest but they have yet to reach an agreement on what should be included in the so-called nationally determined contributions.