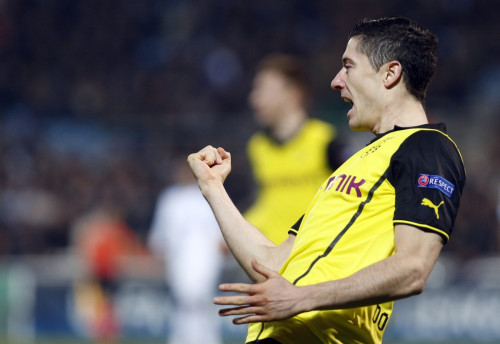 Polish striker Robert Lewandowski has confirmed that Arsenal stopper Wojciech Szczesny tried to convince him to join Arsenal.
The Borussia Dortmund striker signed a pre-contract with Bayern Munich in January and will make the trip to Munich in the summer.
His arrival to the Emirates would have served as a major boost for the Gunners who are in the market for a striker, and Lewandowski is among the top echelon of players who can make a major impact.
The striker has scored 11 goals and assisted in five this season but has failed to lift Dortmund who have struggled to keep pace with Bayern after the departure of Mario Gotze last season.
His departure to Bayern will be a major setback for the rest of the teams in the Bundesliga who are already reeling under the dominance of the Champions of Europe and slowly moving towards making the league a one-sided affair.
However, the same does not bother the Pole who has helped Dortmund to the knockout stages of the Champions League this season with victories against Arsenal and Napoli in the group stages. The striker revealed that their training sessions in the Champions League were attended by a series of top Arsenal officials who were scouting him.
"I can confirm that Wojciech Szczesny tried to convince me to join Arsenal. We had several talks about this. It was him who did most of the talking, how the club looks inside, what Arsene Wenger thinks of me. When we trained before the Champions League games at Colney, there were important people from Arsenal at our sessions as well," Lewandowski said.
The 25-year-old is currently enjoying his last few days with Dortmund and insists that he has no qualms regarding the same and will give his best to help his current side in the title race.
"I just lived with it. Straight after signing the deal with Bayern, I released the statement where I committed myself to Borussia for the final six months. I'm not thinking about all this, and what will happen, it's not the right time," he concluded.