Tottenham were given an opportunity to sign Robert Lewandowski a few years ago, when the Polish international was with Lech Poznan. Steve Archibald, a former Spurs striker, tweeted about the potential deal, adding the north London side could have signed Lewandowski for only £5m.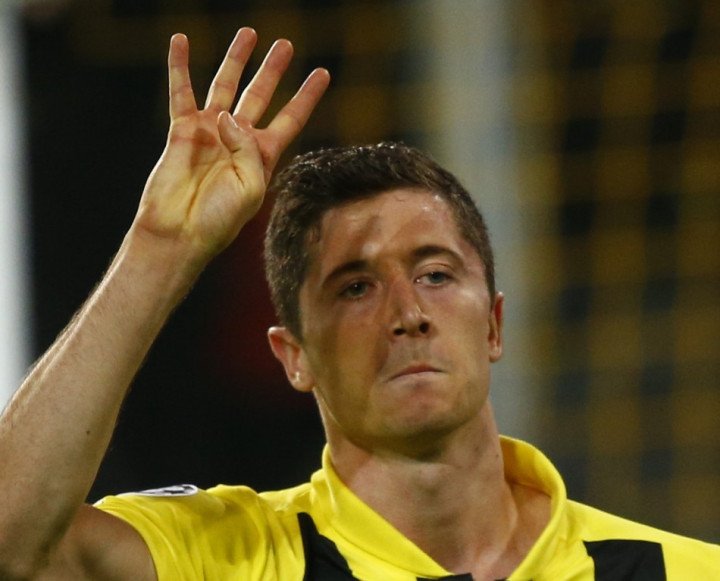 Archibald wrote: "Just a note of interest for Spurs fans, I offered Robert Lewandowsk[i] to Spurs when he was still playing in Poland, for less than 5m, pity !... To be fair, when they said no I offered him to other clubs who also said no!
If the claim is indeed true, Spurs chairman Daniel Levy will have been kicking himself on Wednesday night, after the Pole single-handedly ripped through Real Madrid's defence, to give Borussia Dortmund a nearly unassailable 4-1 lead after the first leg of a Champions League tie; Cristiano Ronaldo gave José Mourinho's side a faint glimmer of hope with an away goal.
The superb result and performance means Lewandowski is the first player to ever score a Champions League hat-trick against the nine-time European champions. And the 24-year-old has been just as prolific in the Bundesliga, despite Jurgen Klopp's men losing their title to Bayern Munich. Lewandowski has 23 goals and five assists from 27 league appearances.
Spurs' Loss is United's Gain
Dortmund's star striker could yet turn out for a Premier League club; speculation strongly links him with a summer switch to Manchester United. However, if Sir Alex Ferguson is keen on adding to his strike force, he will have to fight Bundesliga champions Bayern for Lewandowski's signature.
Meanwhile, if we are to believe the player's agent - Maik Barthel - then that fight has been fought and won (and lost). The representative told German newspaper Bild a deal had been agreed with a club (he did not name the side) over a summer move.
"We have reached an agreement with a club and intend him to move this summer... A very interesting offer for Robert which fulfils demands set by Dortmund and also the demands of Robert. Dortmund have assured us that Robert can move at the end of the season under these conditions. We stick to agreements and now it's up to the clubs to sort things out," Barthel revealed.