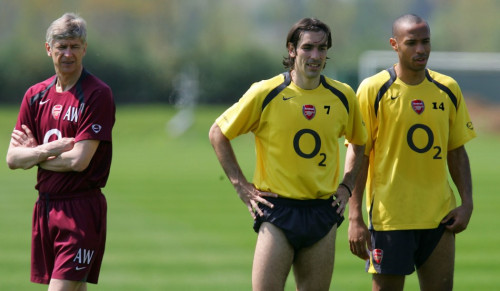 Former Arsenal winger Robert Pires has urged Arsenal to complete a move for Julian Draxler and insists that the midfielder will be a perfect fit for their brand of football.
The Gunners have been heavily linked with a move for the player but no agreement has been made with Schalke regarding a transfer with Arsene Wenger pushing to complete the deal before the end of the January transfer window.
The 20-year-old is rated at a steep £37m with the Bundesliga club unwilling to budge from their current stance and are desperate to keep the player till the end of the season and increase their chances of qualifying for the Champions League.
Wenger is a huge fan of the German and is reported to be considering converting him into a centre-forward in the same ilk as Robin van Persie and Thierry Henry.
The player has the mental ability and physical presence to play up front and will be a major addition to their side as they look to win their first Premier League trophy in almost a decade. Pires believes that Draxler will be an excellent signing for the team and with his ability to play as an attacker or a left-sided winger, will bring a lot in terms of attacking quality to the squad.
"Julian is a good player. He's young and has a lot of potential for development. When I watch him play, I always think that he fits perfectly with Arsenal's style of football. I can see him playing well on the left-hand side or in attack. He could really strengthen the team," Pires told SPOX.com.
Meanwhile, the Frenchman has been likened in his style of play to Arsenal's record signing Mesut Ozil, who has been influential in Arsenal' performances this season. However, Pires shied away from any comparison and insisted that he was no way close to the German's brilliance.
"It's a huge honour that I'm mentioned in the same breath as Mesut. He plays for the German national team, he played for Real Madrid. As a playmaker, he's one of the best in the world," Pires said.