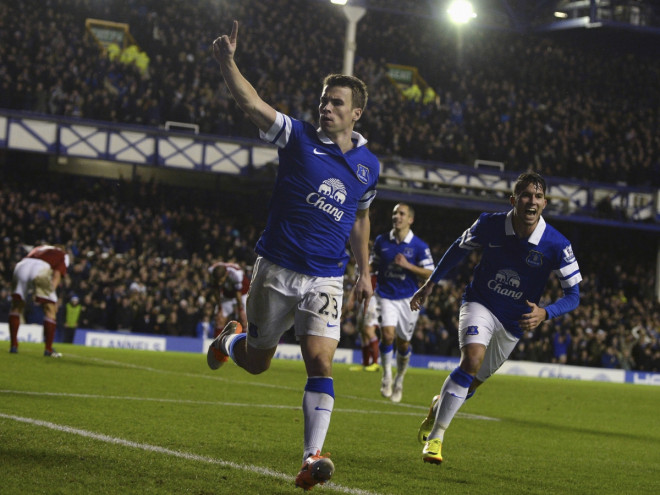 Everton manager Roberto Martinez has dismissed reports claiming the club are close to agreeing a deal with Manchester United for Seamus Coleman.
Coleman, 25, has enjoyed a marvellous campaign under the Spaniard where he has claimed six Premier League goals, the best contribution from a defender in the league.
Reports in the Daily Mirror suggested David Moyes had returned to his former club once again in order to strengthen his United side. It was suggested that a deal worth £15m for the Republic of Ireland international had been agreed in principle ahead of a move at the end of the season, something Martinez has strenuously denied.
"It must be a different Seamus Coleman (being linked with Manchester United) because we've never had any conversations with anyone," the Everton manager told reporters.
"The truth is Seamus has been having a very good season and we want that to continue. He's becoming a very important player at Everton. We want Seamus to be here for a very long time."
United's interest swiftly follows the end of their pursuit of Everton's other fullback Leighton Baines. Moyes sought to bring the England international to Old Trafford last summer along with Marouane Fellaini but the Toffees resisted two offers from the Premier League champions.
United's interest remained until Baines signed a new four year contract at Goodison Park in January, leaving Moyes to pursue other avenues.
United remain light on options on both defensive flanks, a situation that could worsen this summer. Rafael da Silva, who has been troubled by persistent injury since establishing himself in the first squad, remains the club's only real option at right back with Chris Smalling far more adept in a central role.
Following the sale of his brother Fabio da Silva to Cardiff City, United have the options of Patrice Evra and Alexander Buttner at left back. The Dutchman's performances this season suggest he is not a long term option and with Evra's future unresolved as he nears the end of his contract, United are likely to be in the market of players to fit in across their entire backline his summer.