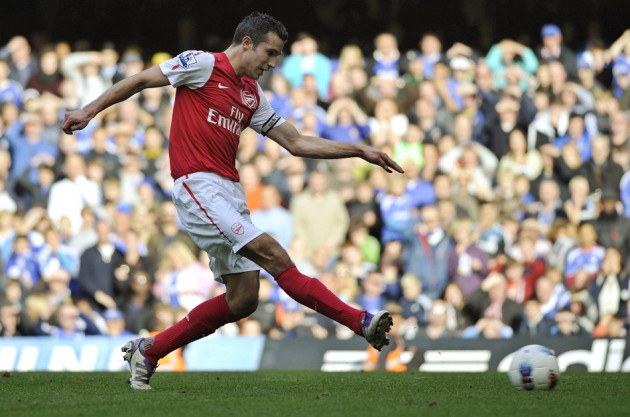 Sifting through today's football ephemera the IBTimes Sports desk uncovered an interesting, if slightly left-field, trove of data concerning the relation between player's performance and the colour of their boots.
The survey - conducted by Footy-Boots.com - will no doubt raise the hackles of a number of traditional football pundits, here's looking at you Garth Crooks, whose interminable moaning about football's changing landscape has become almost a parody of itself.
A total of eight different coloured boots have been responsible for all the Premier League goals this season, the report reveals. Much to the chagrin of football's traditionalists, white boots have proven the footwear of choice for the league's flamboyantly high-scoring strikers.
Top-scorer Robin van Persie is the greatest advocate of the pearly whites. The Flying Dutchman has notched 13 of his 14 wearing a white and purple pair since swapping from a blue number in October.
Of the 10 hat-tricks notched in the league so far, half have been scored by those in white and they also account for a larger portion of the total goals scored - 178, compared to only 70 from those clad in old-school black.
But it isn't just the Arsenal star who has been dazzling in white. Manchester City's Edin Dzeko (10) and Mario Balotelli (seven) are also proponents of the clean look, while Blackburn's Yakubu and Chelsea's Daniel Sturridge (both seven) have been equally prolific.
However, Manchester United's Wayne Rooney has proven the exception to the rule. The England international was in scintillating form early in the season when he bagged eights goals in a pair of blues. But since switching up to his new white boots the hirsute forward has notched just the solitary goal.
Those teams looking to breach the United back-line could do worse than order up 11 pairs of whites, exactly half of the goals David de Gea has conceded since August have come from a player wearing the colour.
Like a red-rag to a bull, those players sporting rouge were, statistically, more likely to be given their marching orders. The relatively small contingent of red-booted players - including robust midfielders Mohamed Diamé of Wigand and West Brom's Youssouf Mulumbu - picked up 12 yellows and one red between them.
It was Hummel, in the early 1970s, who were the first manufacturer to break the taboo around boot colour when they unveiled a white boot in the 1970-71 season. Arsenal's Alan Ball was one of the first professionals to sport a pair but the alternate boots failed to oust the game's traditional black until the turn of the century when companies latched on to the growing market to flood the game with a kaleidoscope of colours.
Earlier this year, Manchester United took matters into their own hands and banned their young players from wearing coloured boots and made them stick to the traditional black.
However, Ellis Cashmore, professor of culture, media and sport at Staffordshire University, told the Daily Mail managers were foolish to think they could change the buying habits of players and fans.
"People trying to restore old traditions in football are fighting a losing battle. There's every chance that we could be witnessing the death of the black football boot. If children wear black football boots these days they get sneered at. It's nothing vicious but you're probably letting yourself in for some mild abuse.
"Football is now all about entertainment. And as part of entertainment, you need a product to sell and football boots are part of this product. People see their favourite player wearing them and rush off to the shops to buy them. David Beckham possibly started this on a major scale after changing to white boots.
"But every time they bring a new boot they have to make it even more distinguishable so we'll possibly see the black boot slip out of existence. You used to be able to buy a pair of football boots and wear them until you grew out of them, but this isn't the case any more."