An Australian university team has been crowned robot world cup champions at the 19th RoboCup games in China after their team of automatons battled its way to glory on the football field.
The world's largest robot-focused competition saw 300 teams from 47 counties participate in programming a standard 58 cm-tall robot at the games in Hefei City, East China. Once the competition starts, the robots are on their own, with the teams not allowed to interfere with the programming.
In the end, New South Wales University triumphed over German team B-Human 3-1 in the final to be crowned 2015 RoboCup champions. Sean Harris, a member of the winning side, explained how the programming allows the robots to work together as a team.
"They tell everyone else where they are on the field and where the ball is. And they make decisions. Maybe one player will play goalkeeper and another player says I'm the closest to the ball. I'm going to kick it and someone else says I'll pass here, I'm standing here or things like that. They try and position around the field and things like that. And then they share all that information – everybody knows what everyone else is doing," he said.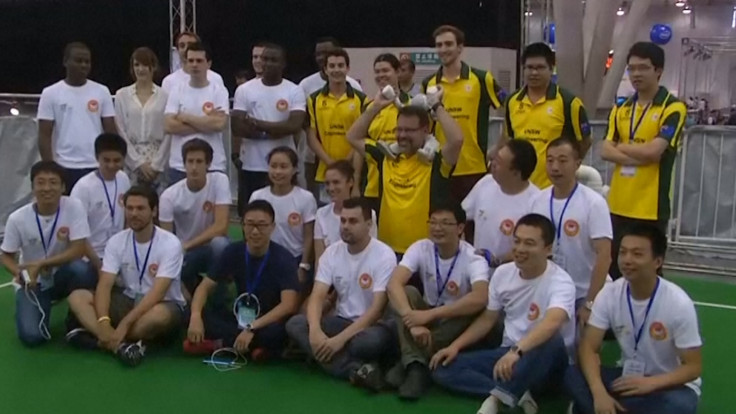 Harris also stated that the secret to his team's success was their speed.
"Everyone has the same robots, so it's all about how you program them and the intelligence. But we are fast. We have a really fast walk. So we are fast, we get to the ball first. And we can play in the direction we want to. So that's really advantageous to us to be fast and that's what wins us most of the games," he said.
RoboCup 2015 was the 19th edition of the competition, which was first held in Japan in 1997.
The aim of the competition is to encourage the development of robotics technology to a point at which a robot team can beat a human by the middle of the 21st century, according to Chinese broadcaster CCTV.