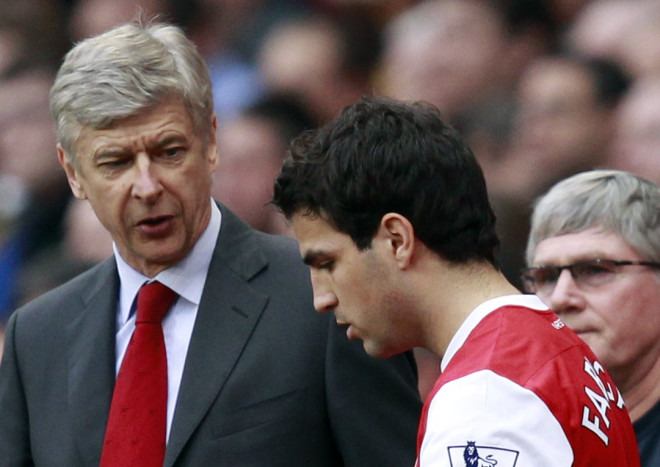 Former Arsenal midfielder Stewart Robson believes that signing Cesc Fabregas will be a step in the wrong direction for the Gunners and the player would rather move to Manchester United or Liverpool.
Arsenal have been linked with a move back for the Barcelona midfielder who left the Emirates in 2011 and Wenger is looking to reunite with the Spaniard as he looks to win his first league title in over a decade.
The Gunners ended their nine-year wait for a trophy by winning the FA Cup last season and are looking to push on with some serious investment in the summer. Fabregas is believed to be available for a fee in the range of £30m.
However, creative midfield is a region where the Gunners should be least bothered, especially with Jack Wilshere, Snti Cazorla and Mesut Ozil all capable of securing that position.
On the contrary, the same money can be spent in strengthening the other weak links in their squad, which cost them the title last season.
Arsenal were top for 128 days, more than any other team in the top four but met heavy losses against the likes of Manchester City, Liverpool and Chelsea, which derailed their title challenge.
Robson believes that a striker, which they sorely missed last season and a defensive midfielder in the same grain as Daniel de Rossi are the need of the hour for the Gunners.
"I'm not sure Fabregas would be the right player for Arsenal. He was brilliant for Arsenal but the last year or so he started to - [be] a bit like [Thierry] Henry... Do what he wanted to do rather than being a team player," Robson told talkSPORT.
"I think it would be a backward step to bring him back in. I think he would probably be better off going to Liverpool or Manchester United.
"What Arsenal do need is a holding midfield player. [Mikel] Arteta, as good a passer of the ball as he is [although] he is not athletic enough. He had Denilson a few years ago who couldn't run at pace.
"It's a big problem area for Arsenal and they have to rectify it. They have to get a strong midfield player, a good defensive midfielder who can play as well.
"In Italy, we talk about De Rossi who plays for Roma. I'm sure he's not going to come to Arsenal but that's the sort of player they need," he added.