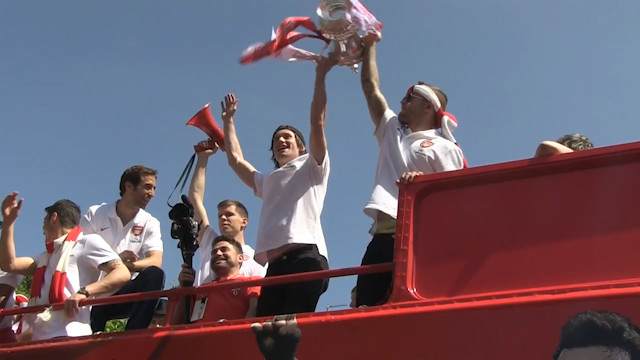 Former Arsenal midfielder Stewart Robson believes that winning the FA Cup should not be enough to hand Arsene Wenger a new contract.
The Frenchman is expected to sign a three-year extension on his current contract, which expires this summer.
Wenger kept the club waiting for his signature and after having delivered a fourth placed finish and a much needed trophy, is on the verge of extending his 18 year old legacy at the club.
However, Robson believes that the same is not enough for Wenger to warrant a new contract as his influence has taken the club backwards over the past few years.
The former Gunners midfielder believes that the likes of Robin van Persie, Samir Nasri and Cesc Fabregas have left the club as Wenger's tactics were holding back their development.
Robson has asked for Juventus manager Antonio Conte to be brought in replacement of Wenger who will take Arsenal to the levels they aspire for, something which has not happened under the stewardship of the Frenchman.
"A lot of players have gone backwards since they've been at Arsenal. One of the reasons why players have left in recent years, it's not for more money or titles, it's because they have felt their football development has been stunted by Arsene Wenger," Robson told talkSPORT.
"If I was holding the purse strings, the first thing I would do is bring in Antonio Conte as my new manager. He's the best coach in Europe," he added.
Meanwhile, Arsenal are preparing for next season with the manager being handed a £100m kitty to spend in the summer.
The Gunners are looking for a striker to ply alongside Olivier Giroud, who has scored 22 goals this season in all competitions.
Karim Benzema, Mario Mandzukic and Carlos Vela have been linked with a move alongside a defensive midfielder to replace Mikel Arteta. Javi Martinez, Lars Bender and Morgan Schneiderlin are favourites to take over that position.