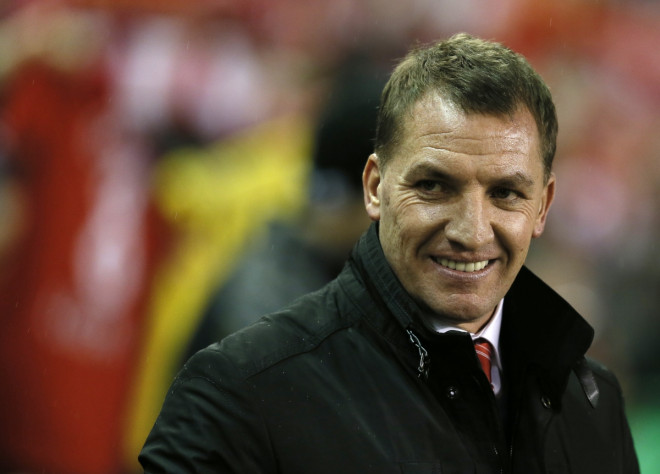 Brendan Rodgers claims Liverpool's form this season is due to the implementation of different tactics and formations and the players' abilities to adjust to them.
The Northern Irishman has experimented with the formation and player positions, fielding a 4-3-3, 3-5-2 or a midfield diamond, which has helped the Reds win 19 Premier League matches from 29 played so far. Rodgers cited lack of depth as one of the major reasons for changing tactics this season.
However, the modification has also seen Liverpool score the most number of goals in the league with 76 so far. The Merseyside club's performances this campaign sees them currently sit second in the table with 62 points, just four behind leaders Chelsea with a game in hand against them.
"We have a really small squad so we have to find ways and solutions to win games. One of the ways is to be really flexible with your tactics. The beauty of this team and how we are developing is we do have different ways to win," Rodgers told the Liverpool Echo.
"Whatever the game demands, we have the flexibility to operate in the way required. What we are now doing is we are developing the team tactically. If teams sit deep, we can play through. We have the brightness and imagination around the box to score goals. If teams push on, we have the pace and penetration to get in behind them."
The Reds defeated Manchester United 3-0 in the last fixture at Old Trafford. Raheem Sterling was one of the star players for Liverpool during their victory over their arch rivals. Rodgers expressed his delight after the England international's impressive performance against David Moyes' side.
"Raheem is a clever footballer. For a young boy, tactically he's very good. Raheem is intricate in tight spaces. He's maturing very well. We've seen we have options with him because of his tactical intelligence. When he starts in the centre he offers us penetration with his speed," Liverpool manager explained.
"For our first goal against United he played a really important part as he took the ball out of pressure, around Marouane Fellaini and then switched play to Jordan Henderson. For the second goal, he made a great penetrating run in behind from Glen Johnson's pass."