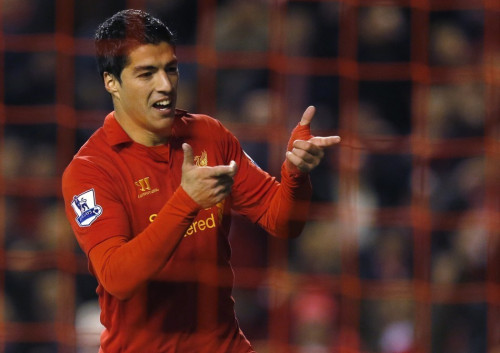 Liverpool manager Brendan Rodgers says Luis Suarez's 10-game ban for biting Branislav Ivanovic has transformed the Uruguayan forward.
The incident last April caused uproar and calls for The Reds to sell Suarez in the upcoming summer transfer window after a second major controversy since his move to the Premier League.
But Liverpool kept faith and have been rewarded with Suarez having scored 20 league goals since his return from the ban and following a summer during which he stated he wanted to leave the club.
Suarez will come face-to-face with Ivanovic for the first time since the flare-up on Sunday as Liverpool travel to Chelsea in the Premier League but Rodgers doesn't fear a confrontation between the two players.
"I don't think there's anything else there," Rodgers told reporters.
"They spoke after it and it was cleared up back then. I think it will probably end up proving to be a turning point in Luis' career.
"He's been brilliant on his return both on and off the field so I do not expect any backlash from that."
The Boxing Day defeat to Manchester City saw Liverpool slip to fourth in the Premier League, a point behind Chelsea and three behind leaders Arsenal.
Having lost to both Arsenal and City on the road this season, the trip to Chelsea is Liverpool's next opportunity to flex their title muscle against one of their closest rivals.
Midfielder Lucas Leiva says Liverpool must use the game to reignite their title challenge.
"Of course everyone was really disappointed that we never got the three points, or at least a point. Everyone could see that we really went to win the game." the Brazilian said.
"I think we played some fantastic football. Maybe we felt a little bit unlucky with some of the decisions. If they were for us, not against us, it would have been a different result. We had some chances to score.
"Overall, it was a positive performance but of course we are disappointed because we lost. Now we have to move on - we have another big game and it becomes even more important after the defeat the other night."