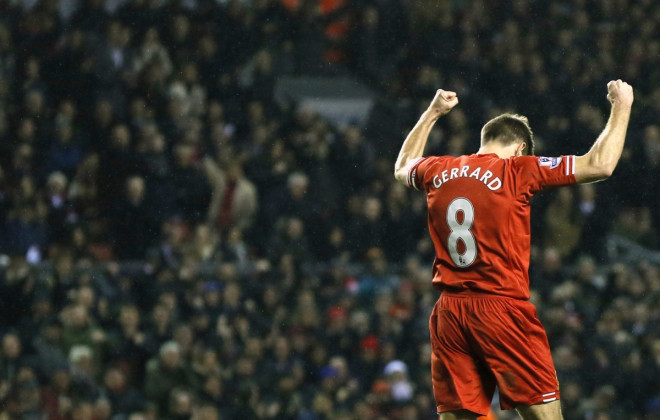 Former Liverpool midfielder Dietman Hamann has claimed that Steven Gerrard can still thrive for years to come at Anfield after Brendan Rodger's decision to use him in a deeper role.
The Liverpool and England captain is thriving this season more than ever in his new holding role, playing behind the creative midfielders, rather than in his original attacking position.
Gerrard has scored 11 Premier League goals this season while in the last seven games he has netted six, including a crucial brace in the recent 3-0 victory at Old Trafford.
Hamann believes Rodgers' decision to give Gerrard a new deeper role will allow him prolong the 33-year-old midfielder's career.
"After seeing the way he has performed this season, I think he can fulfil this role for some years to come. He and the manager have obviously discussed the change in role and agreed that if he wants to prolong his career this is the way to do it," Hamann told club's website.
"There can't be many more players who have decided the number of games he has with their assists or goals. To go from that role to a more defensive one is not an easy thing to do and it doesn't happen overnight. I wouldn't say it's necessarily a new Steven Gerrard we're seeing, but certainly a different one."
Hamann established himself in the Liverpool midfield throughout his seven years at Anfield, playing his part in the 2005 Champions League victory. He used to play as an anchor to give Gerrard the freedom to attack and now is impressed about his former teammate's transition.
"His adaptation, and in particular the discipline he shown, has been so impressive. In that role you have to play the same way whether you're 2-0 up or 2-0 down, and he's done just that," said the former German international.
"The way he has changed his game this season has been majorly impressive, and he's again been a vital part of the team. Not only does he spot danger very early, but he also wins the ball back, and we all know how good his passing ability is. He was so good in his attacking role that you would let him play with freedom and without too much discipline because he would decide games."