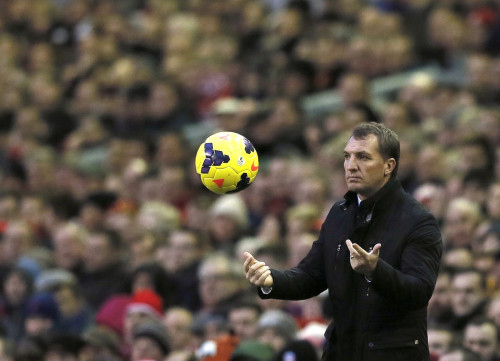 Brendan Rodgers has quipped that Liverpool are the Chihuahuas of the Premier League title race after Jose Mourinho was quoted as saying that Chelsea are like a little horse.
The Reds are only four points behind leaders Chelsea in the title race after their consecutive wins over Arsenal and Fulham and are now harbouring hopes of going all the way. A
fter a masterpiece of a performance against Arsenal where they beat the league leaders 5-1 at Anfield, the Reds showed the character to come back from being 2-1 down to win the game deep into injury time after Steven Gerrard scored a penalty.
Liverpool have an advantage that they do not have to play any of the big guns away from home and have the opportunity to take the most points out of the likes of Chelsea and Manchester City in the business end of the season.
However, Rodgers is not getting carried away and insists that they need to defend better as the season progresses and carry on their excellent form as they showed against Arsenal in the last game.
"I don't do all that horse stuff. Jose [Mourinho] is very good at all that. We may be the chihuahuas that run in between the horses' legs. But we're just about improving with each match," Rodgers said.
"It was a very important win for us. Obviously after the game at the weekend when we were outstanding (beating Arsenal 5-1), we had to show some different qualities. One of them was character and this was a wonderful demonstration of the togetherness of the group.
"You're always pushing and you're always looking to get something. For me, it's never over until the whistle goes. Yes, they were disappointing goals. We've defended poorly at times this season, it has not been structurally but mistakes and individual errors.
"But thankfully we're a very aggressive and offensive team going forward, so we have goals in the team. That's something I've been trying to build since I've been here. When I arrived into the club, the complaint about the team was that they didn't score enough," he concluded.