Roger Federer vs Novak Djokovic, Barclays ATP World Tour Finals Final: Where to watch live, preview and betting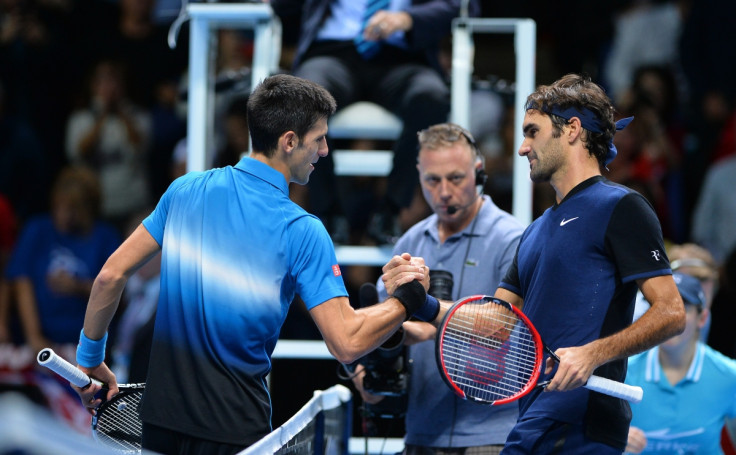 Roger Federer and Novak Djokovic meet in the final of the ATP World Tour Finals in London.
Where to watch
Federer vs Djokovic is live on BBC 2HD, BBC Three HD, Sky Sports 3HD and BBC Radio Five Live sports extra at 6pm.
Preview
Roger Federer and Novak Djokovic will both look to make history in the final of the ATP World Tour Finals as the men's tennis season reaches its climax at the O2 Arena in London. Federer is chasing a record seventh title while Djokovic can win an unprecedented fourth straight crown at the season-ending tour finals.
Djokovic has won the title in each of the last three years and after a season where the world number one has lost just six times the Serbian will be looking to end the campaign in the grand manner. Federer has inflicted upon the 10-time major champion two of those losses, including in the round robin stage with a two-set win.
Federer kept Djokovic from overtaking him for the first time in the pair's head-to-head rivalry by claiming a 22nd win in their 43 meetings. The Swiss has been typically aggressive amid his unbeaten run to the final and will be looking to lay down a marker ahead of the 2016 season.
The meeting is the final that never was from 2014, after Federer withdrew from the showpiece with a back injury just days before the Davis Cup final. Djokovic won the final between the two in 2012 and his return to form in the semi-final destruction of Rafael Nadal suggests he has been unperturbed by his earlier round robin loss.
There is more than just a seventh title on the line for Federer, with victory also keeping him in contention to finish the year as the world number two. Andy Murray failed to claim the wins which would guarantee him a top two finish to the season, but victory in each of his Davis Cup final singles rubbers against Belgium will trump the 17-time grand slam champion ahead of seeding for the Australian Open.
What the players say
Roger Federer: "The press conference wasn't the fun part, I could tell you that, because I knew I was not in good shape. This year obviously it's very different. I feel completely normal. It's a big relief for me.
"I mean, it [the head-to-her record with Djokovic] matters because we can both look back on it and see what we could have done differently, for the good or the bad. That's interesting for both of us. Even though it does also happen that you play each other in one place one week, then another place seven days later in a finals, I'm sure we've done that as well. This is different. It's the same conditions, same court, same place.
"For me it's an advantage because I guess it gives me a bit of confidence. For him it's an advantage because he gets a second chance, and he's in another final. He's played some great tennis since we've played. So, yeah, I still believe his confidence is slightly higher than mine with the amount of success he's had this year."
Novak Djokovic: It's the best season of my life, I mentioned that before. Regardless of the outcome of tomorrow's match, the season will still be the best that I had.
"There is always room for improvement, so that's something that honestly excites me and motivates me to keep on going. I've had a terrific career and I'm very proud obviously with my team to be able to achieve what I have achieved in the last 10 years of professional tennis.
"But I still feel like I want to do more, and I can do more. Hopefully the health, fitness serves me, the fresh mind, and I can do more things in the future.
"I don't feel unbeatable, but it does definitely feel great when I'm playing the way I played today, when I feel like I'm dictating the pace, the match itself, most of the rallies, I feel like I'm on top of my opponent. There are days when you don't feel great, where you have to find a way to win."
Betting odds (source William Hill):
Roger Federer 9/5 vs 2/5 Novak Djokovic
Head-to-head record: Federer 22-21 Djokovic. Last match ATP World Tour Finals (hard) Federer bt Djokovic 7-5 6-2
Previous meetings at the ATP World Tour Finals: Federer 2-3 Djokovic. Last match Federer bt Djokovic 7-5 6-2
© Copyright IBTimes 2023. All rights reserved.