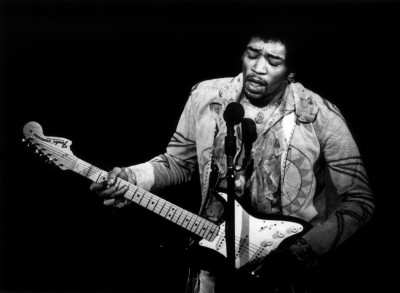 On Wednesday, Rolling Stone magazine named Jimi Hendrix as the greatest guitar player in history.
In a list compiled by a panel of experts and top guitar players, the magazine chose Hendrix, followed by Eric Clapton, B.B. King, Keith Richards, Jimmy Page and Pete Townshend as being among the top 10 artists.
"Jimi Hendrix exploded our idea of what rock music could be: He manipulated the guitar, the whammy bar, the studio and the stage," said Grammy-winning guitarist Tom Morello in the magazine, citing Hendrix's "Purple Haze" and "The Star-Spangled Banner" as key tracks.
The list was compiled by experts such as Lenny Kravitz, Eddie Van Halen, Brian May and Dan Auerbach from The Black Keys, along with a selection of Rolling Stone's senior writers and editors.
The full Rolling Stones list will be featured in a special issue with four special covers of Jimmy Hendrix, Jimmy Page, Eddie Van Halen and Eric Clapton. The magazine will hit the newsstands and be available on the Web site on Friday.
The Rolling Stone's Top 10 Greatest Guitarists Are:
1. Jimi Hendrix
2. Eric Clapton
3. Jimmy Page
4. Keith Richards
5. Jeff Beck
6. B.B. King
7. Chuck Berry
8. Eddie Van Halen
9. Duane Allman
10. Pete Townshend
Take a look at the all-time legendary guitar icons in pictures.