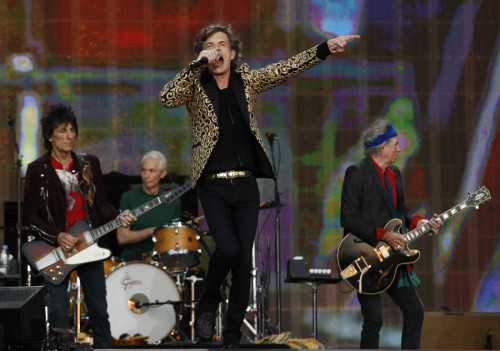 The Rolling Stones, one of the most celebrated and iconic rock acts, are reportedly in negotiations to perform in Israel in June 2014.
According to a report in Times of Israel, the group has been offered $4.5 (£ 2.7m) million to perform at Park Hayarkon in Tel Aviv.
The Stones are in discussions with promoters Marcel Avraham and Gadi Oron for their Israel gig. The group will be on their 2014 European tour and after that, they plan to make a stop in Israel, reports daily Yedioth Ahronoth
The amount is reportedly the largest ever to be offered to any artist, to play is Israel. If all goes well, the concert will take place between the end of May and June 10.
Tickets to the event would be expected to cost over NIS 400 each, according to The Jerusalem Post.
This new development comes close to the heels of the Stones' bass player Darryl Jones visit to Israel last month where he performed with the Australian-based hard rockers, Dead Daisies at a sold-out show at the Barby Club in Tel Aviv.
In 2013, a fake story around the rumour that Rolling Stones were planning to perform in Israel in honor of Israel's 65th Independence Day, went viral. Hopefully the country's rock fans won't be left disappointed with this latest development.
Representatives of the group are due to arrive in Israel in the coming days to further discuss the concert, but according to sources close to the promoters, "there is still no final signature" on a contract.
Formed in London in 1962, The Rolling Stones established itself as one of the foremost acts of the classic rock genre. The band has released nearly 30 albums and celebrated its 50th anniversary in 2012. In recent years, the Stones have set out on several money-spinning world tours.